2011 Cleveland National Meet Photos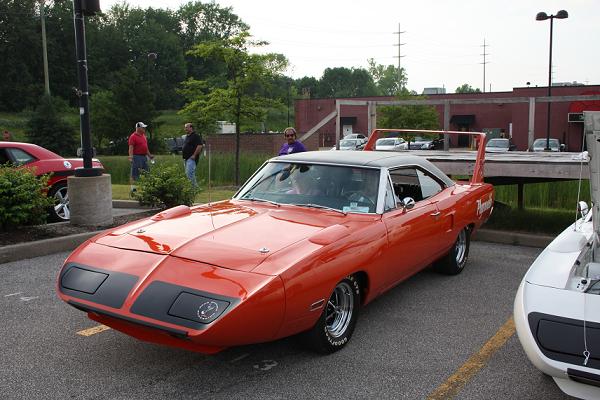 Gary Fairchild brought this beautiful Six Pack Superbird to the Cleveland meet.   The Tor-Red paint has just a small amount of pearl in it and it really POPS.    Great looking car.   These pics are from the Tuesday night cruise in Solon Ohio.

Paul & Rose Prescott's ground pounder Daytona has a street fighter look to it and it sounds nice too.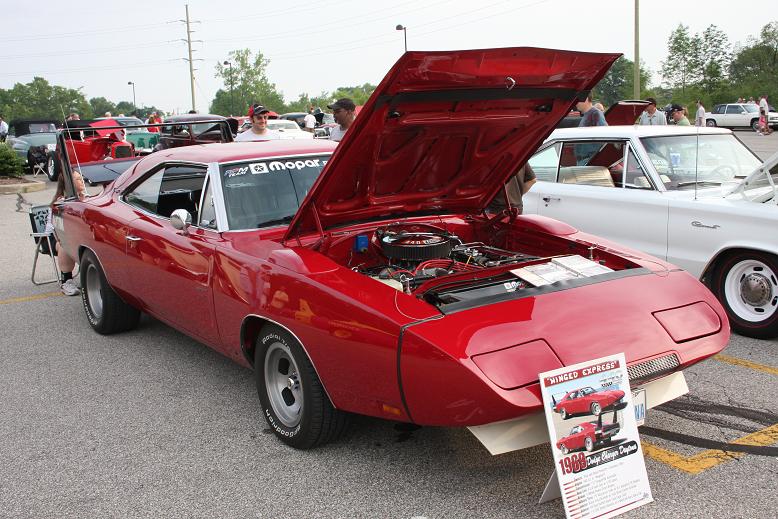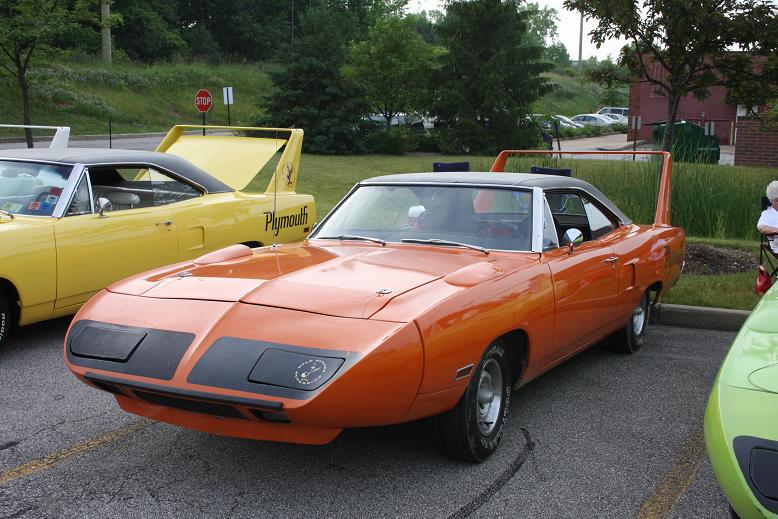 Mike & Melanie Atkins brought their Vitamin-C Superbird from Tennesee.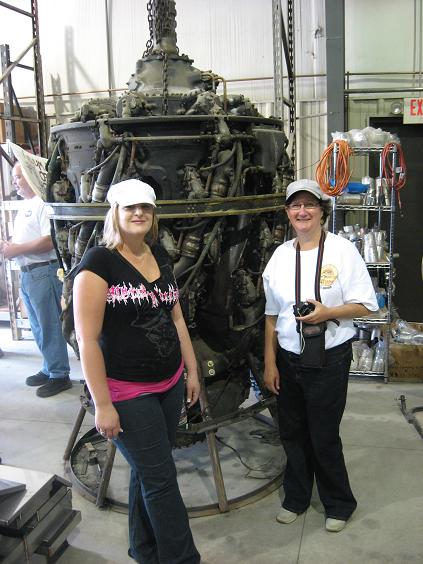 We visited Stainless Works Exhaust.  Most of what they do is automotive related, but they were also working on an exhaust system for a WWII Corsair engine. It has four banks of seven cylinders.  28 cyl in total.   Impressive!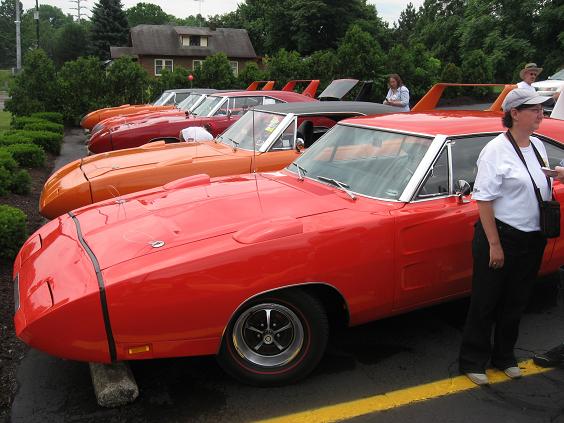 After Stainless Works, it was on to lunch at Swensons Drive In through some torrential rain.   It dried up just as we were getting to the restaurant.

Rich and Rhonda Kelley's Superbird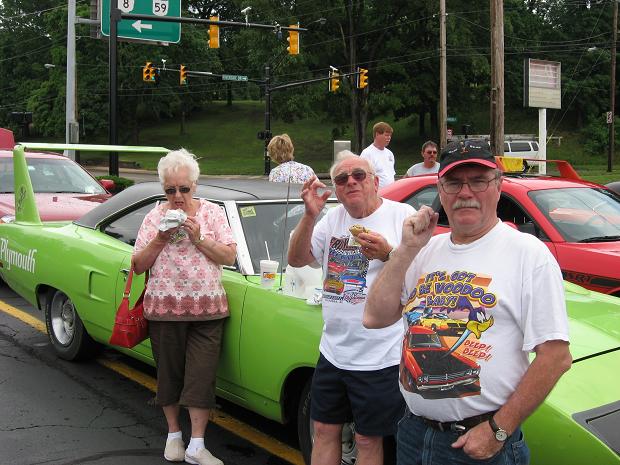 Bump Fleck and Stan McGuire tell us the food is A-OK !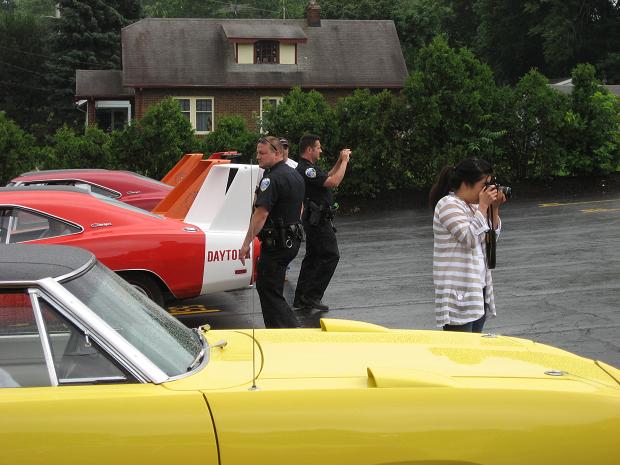 One of the cops was a car guy and had never seen a Superbird up close before.    He was really excited to see us.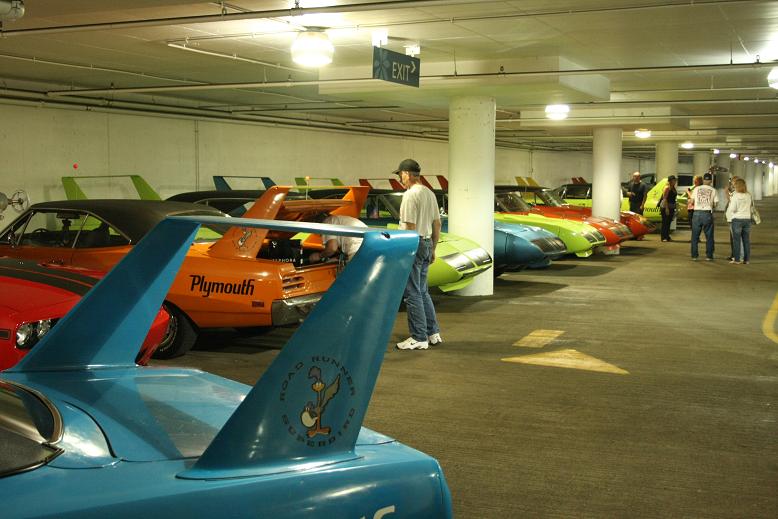 Thursday morning at the Crawford Museum complex, and parking garage.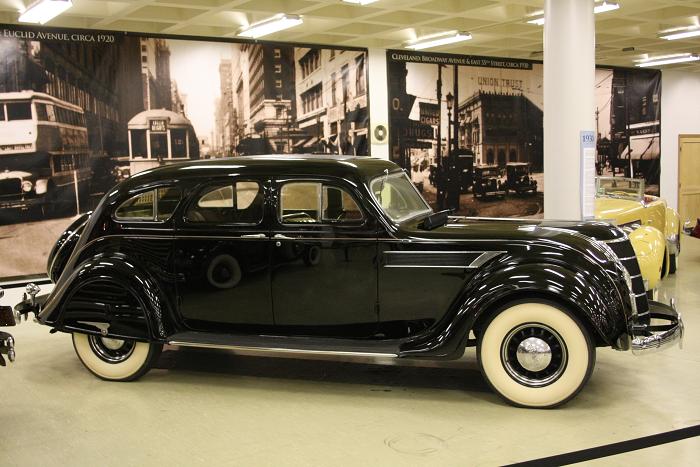 Beautiful Chrysler Airflow from the Crawford Auto Museum

1966 AMX prototype is made of fiberglass.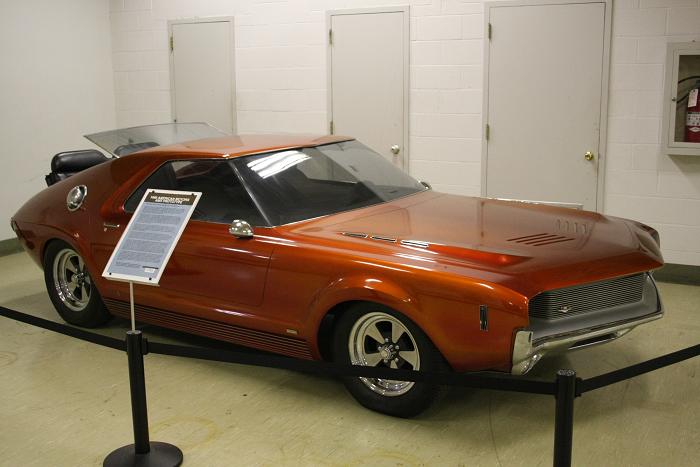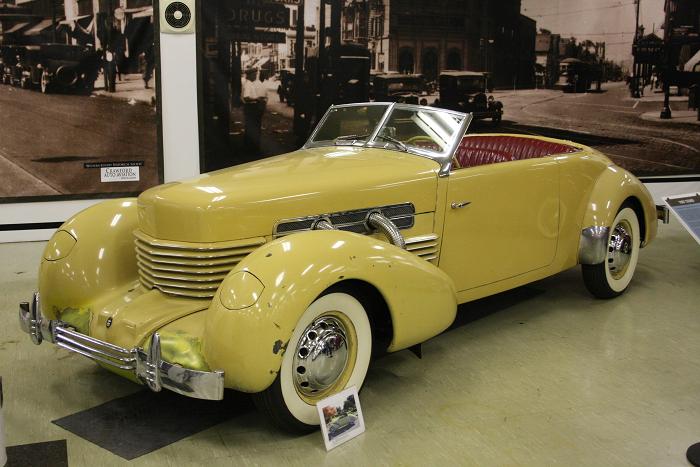 Survivor Cord 810 is a rare sight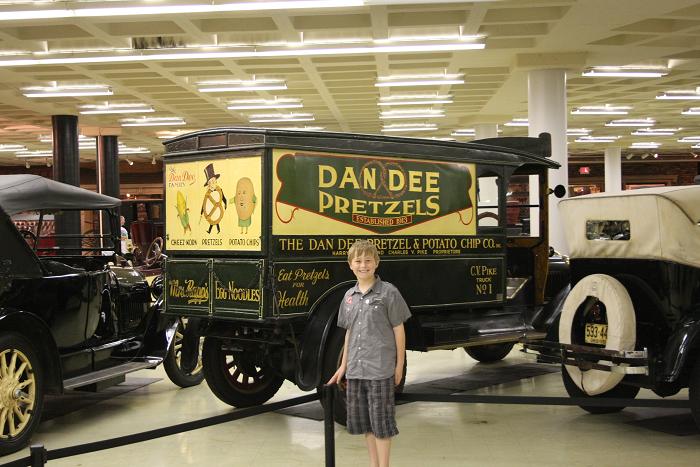 Andrew Croxford by the local Cleveland built exhibit.    There were a lot of cars built in the area in the early days of the industry.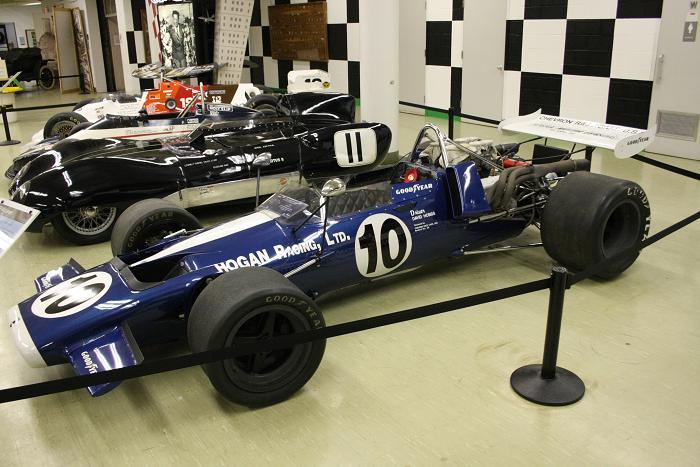 David Hobbs drove this McLaren M10 in the SCCA Continental series in 1971.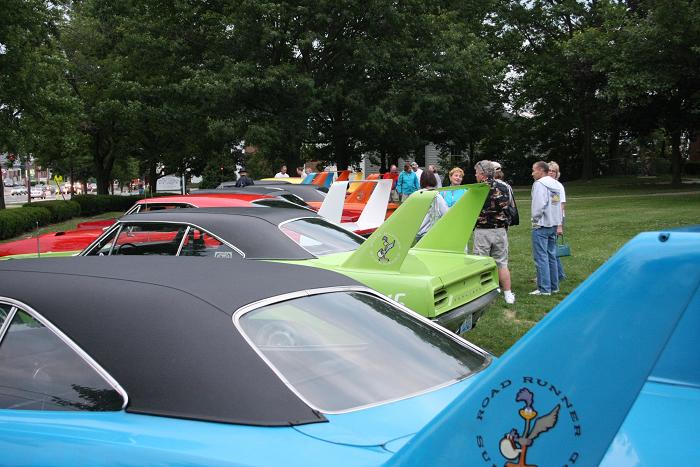 Thursday evening we would up at a small town 200th Anniversary Festival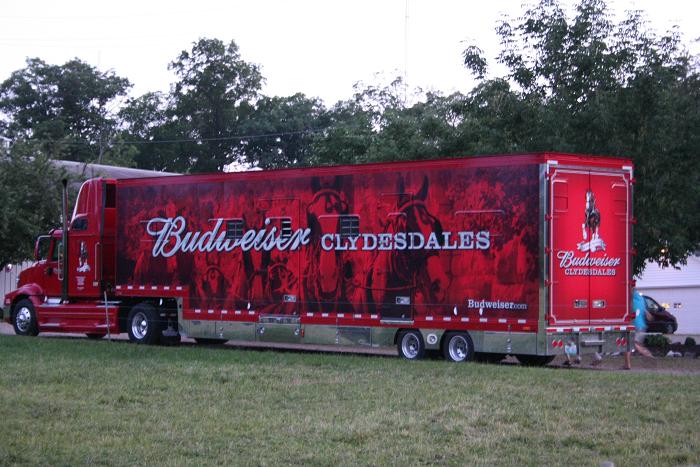 Just a few minutes from the festival was one of our host' Doug Croxford's friends from the Porsche club.    He operates a stable and just happened to have the Budweiser Clydesdales there that evening.   There are three semis that transport the horses, wagon and equipment.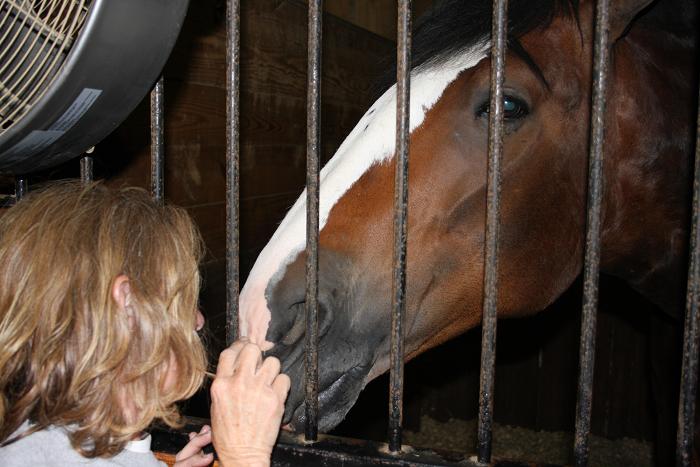 Rhonda Knipfer who has horses of her own,  meets a new friend.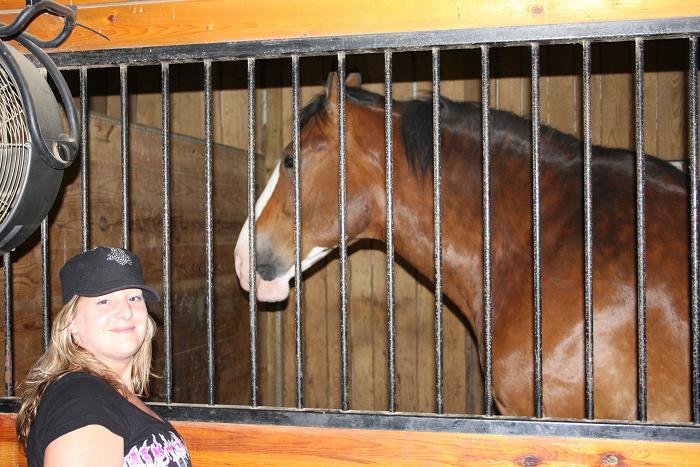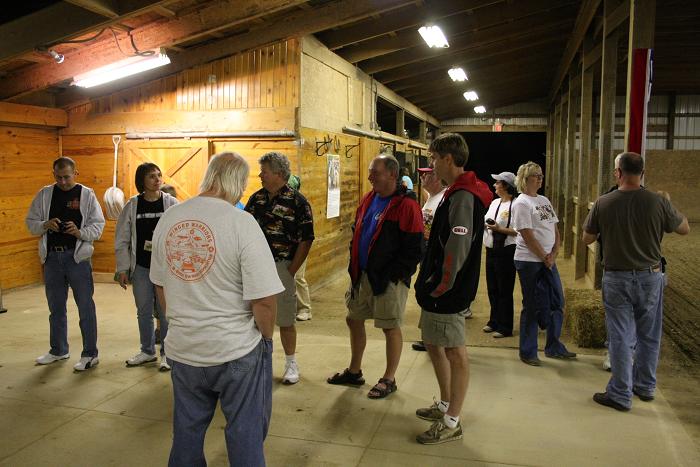 Hangin' out at the horse barn.    The Clydesdales were an unexpected and pleasant surprise.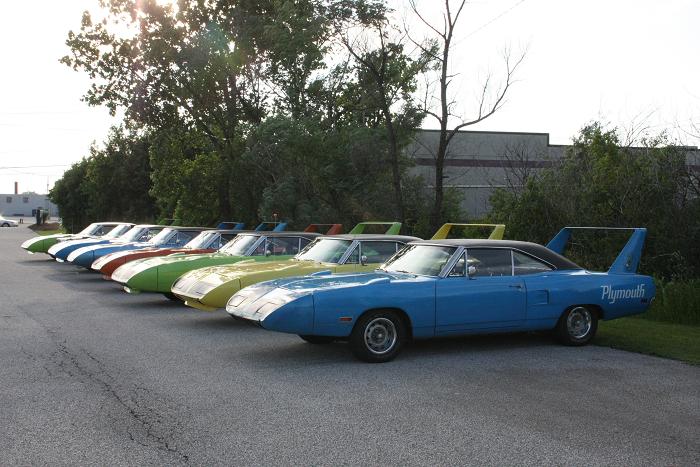 Cars at rest while Whirlyball mayhem ensues inside the building.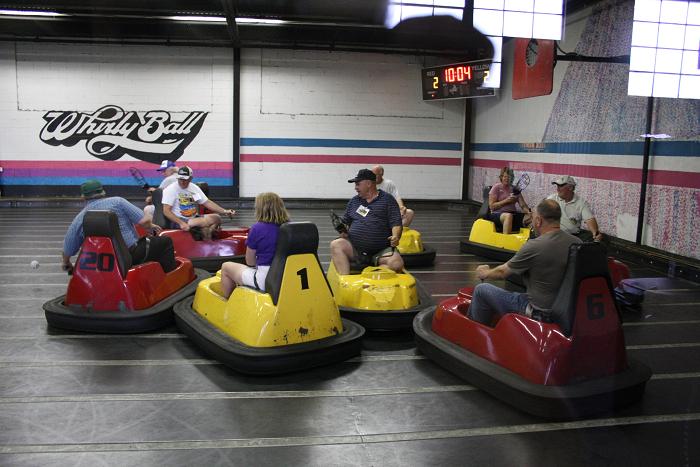 Whirlyball is opposing teams in dodgem cars on a court that has a basket at each end.  Each player has a scoopy thing to handle a wiffleball.   The object is to shoot it and score by hitting the red backboard, or better yet score more points through the hole in the backboard. There is a fair amount of contact and although we were nice, others treat it as full contact!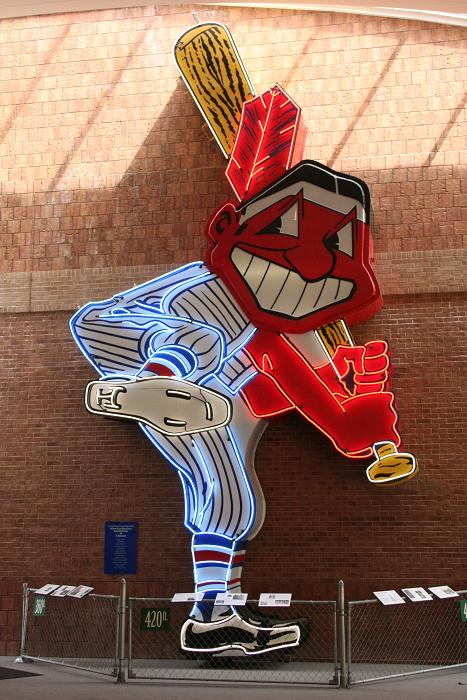 Beautiful neon at the Cleveland art museum.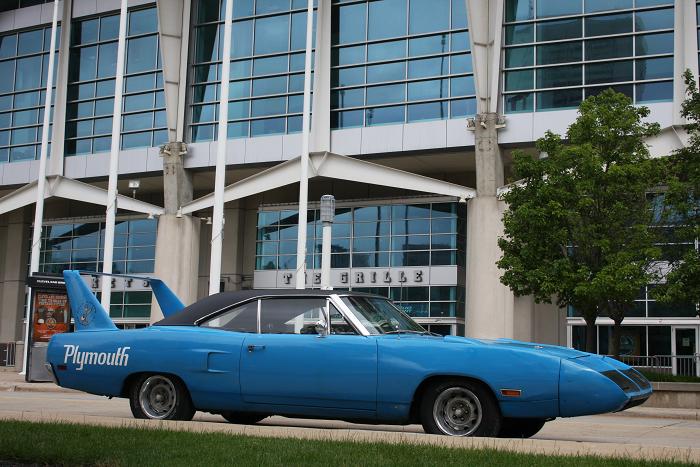 Doug Croxford's Petty Blue Bird outside the Cleveland Browns stadium.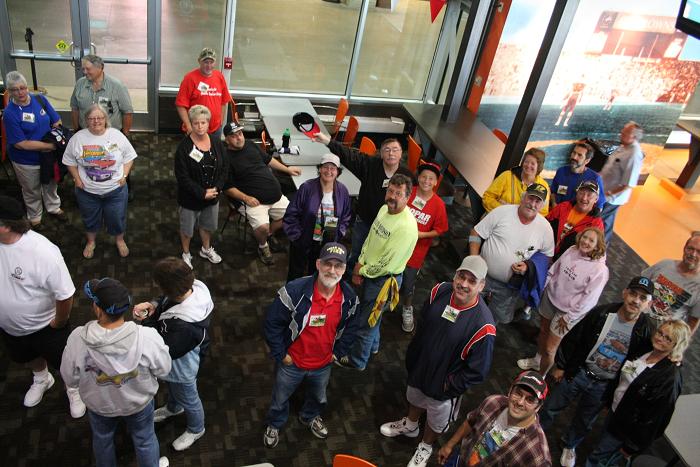 Our gang waiting for our tour of the Browns stadium.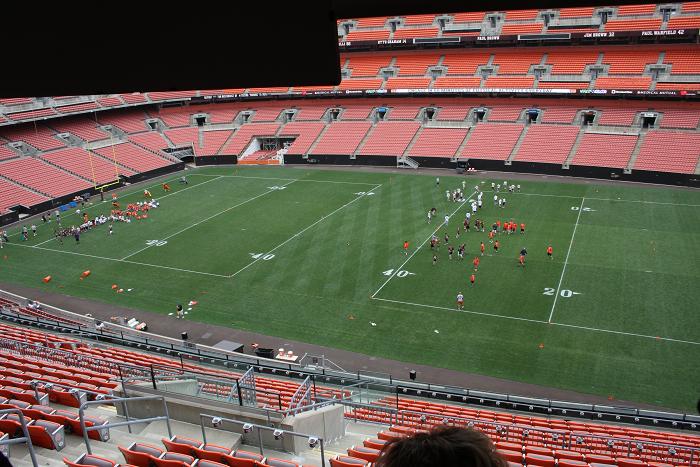 View from the club level suites.    Not bad.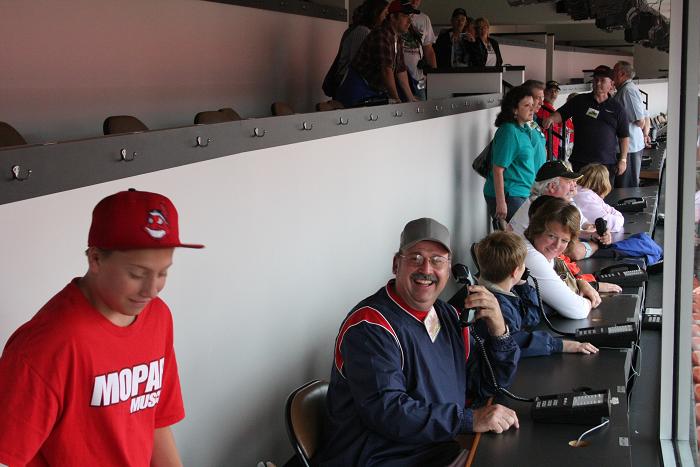 Checking out the press box.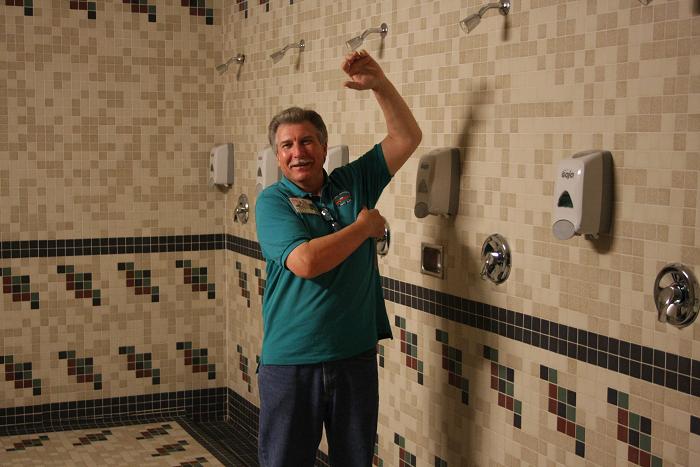 For our $5 price of the tour, you got to check out the locker room and showers too.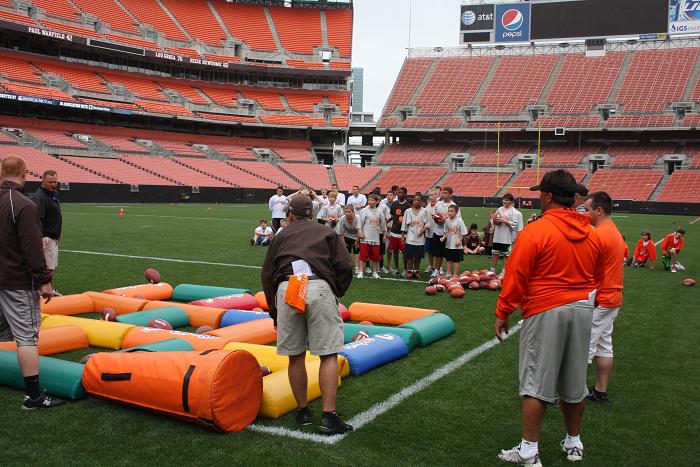 Down on the field, there was a youth football camp going on.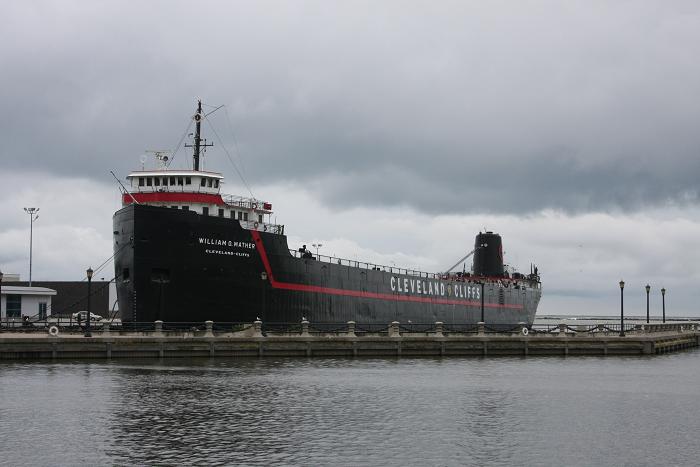 Next door to the stadium is the Rock Hall of Fame and the Great Lakes Maritime Museum.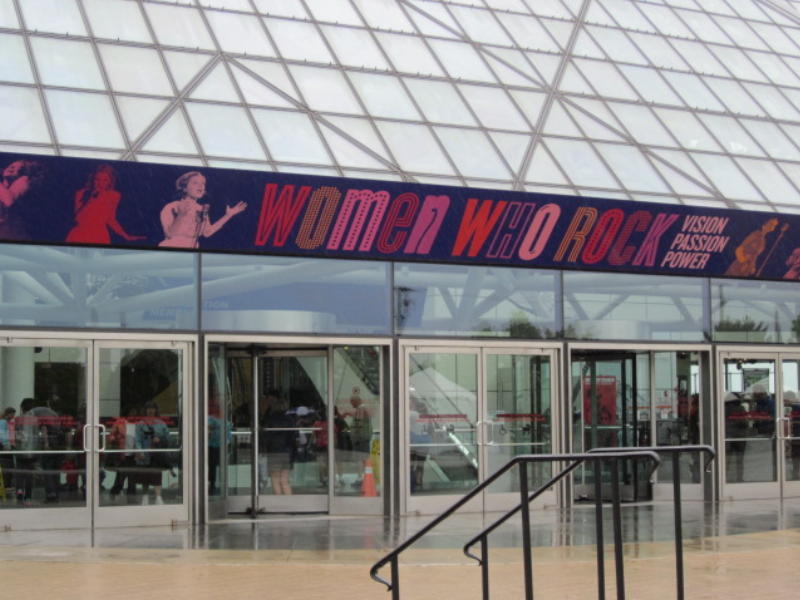 The rock hall is a beautiful building that they do not allow any photographs inside!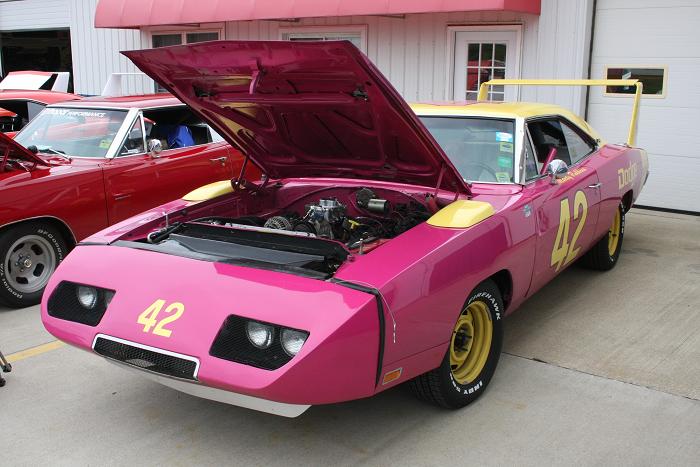 Our Saturday wrap up was a visit to BE & A parts, a well known Mopar restoration supplier.   Mike Ross, our host put on a nice spread and we filled the parking lot.   This is Carol Croxford's Marty Robbins Daytona clone running a late model 5.7 Hemi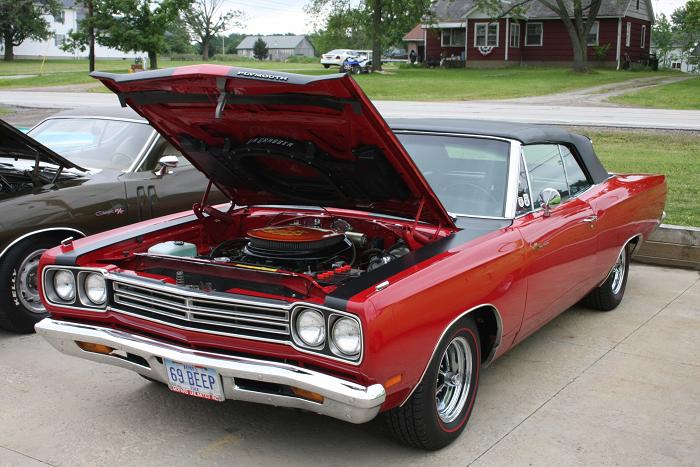 Stan McGuire's beautiful 1969 Road Runner convertible.

Phil Handley's 1965 Belvedere from Maryland packs a hot running 440.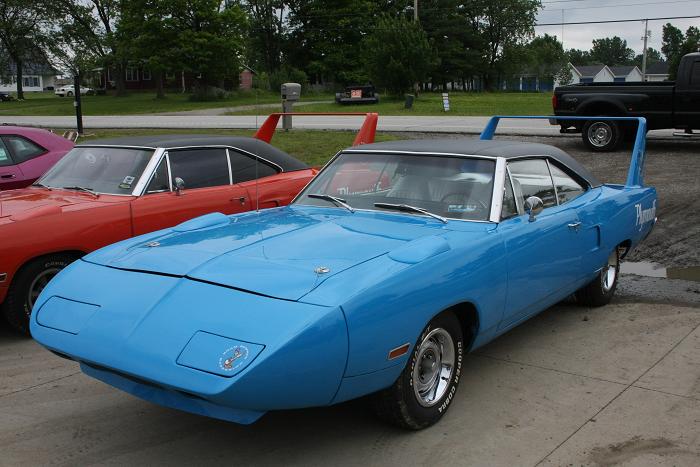 Jim & Kathy Wurster receievd the hard luck award due to some brake problems.   They got the Bird back up and running for the trip home to Wisconsin.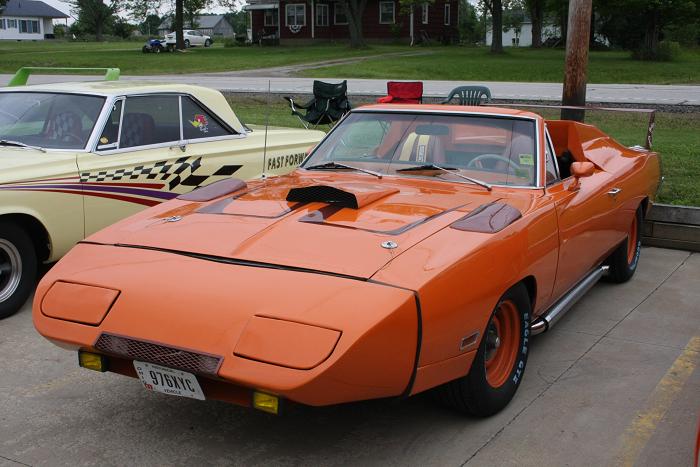 Gary Svec brought his Dodge Supercharger replica that he built himself.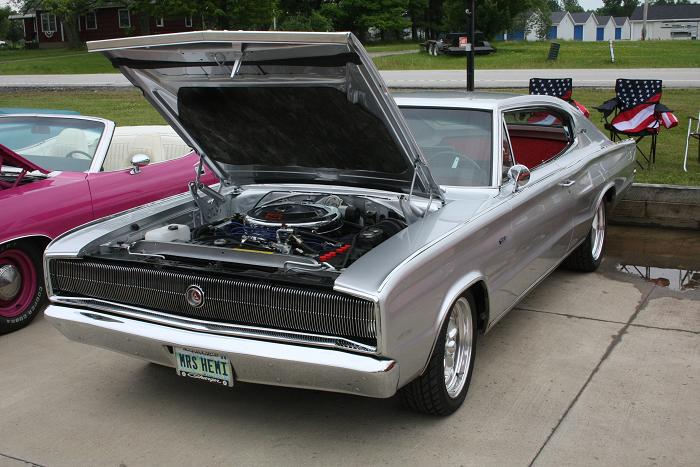 Great looking 1966 Hemi Charger.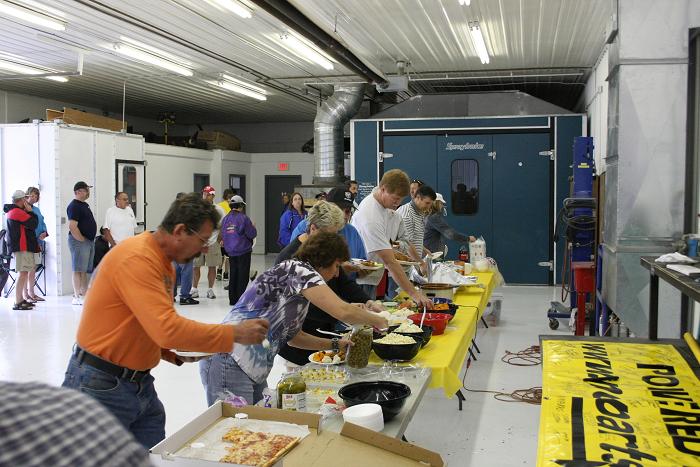 Lunch time at BE & A parts.   Yum.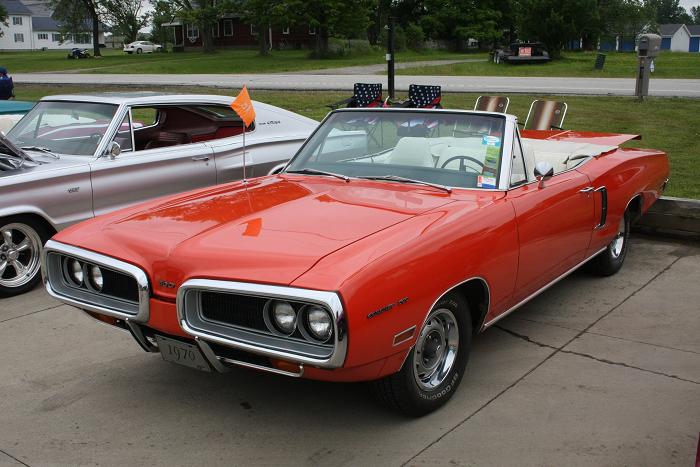 Don Bish brought this great survivor 1970 Coronet convertible from Indiana.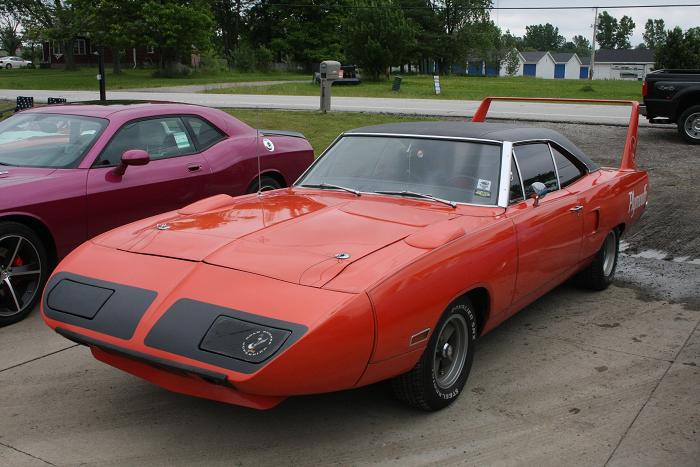 Mike Borkowski is the original owner of this low miles Tor-Red 4-speed Superbird.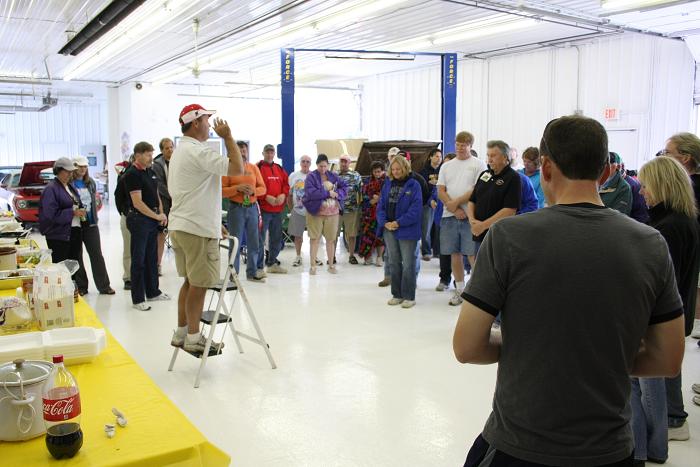 Our host Mike Ross (white short) addresses the group.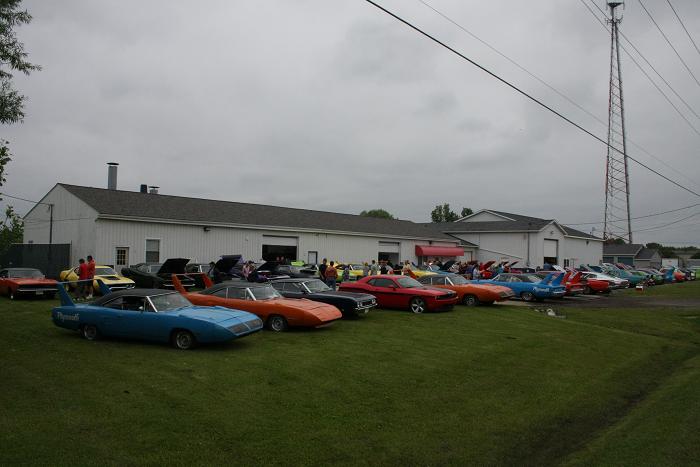 Our gang of cars outside the BE & A shops.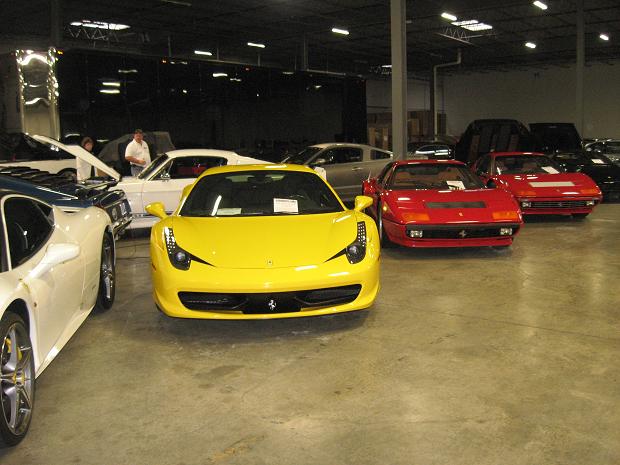 The Friday night pizza party was sponsored by RH Motorcars in Cleveland.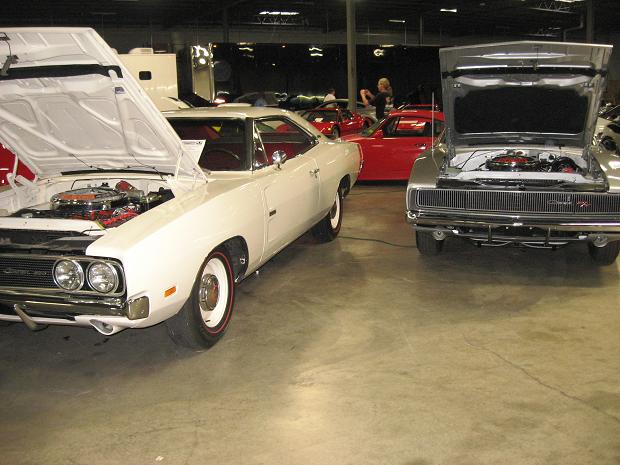 Hemi Charger 500 and '68 Charger await delighting new owners.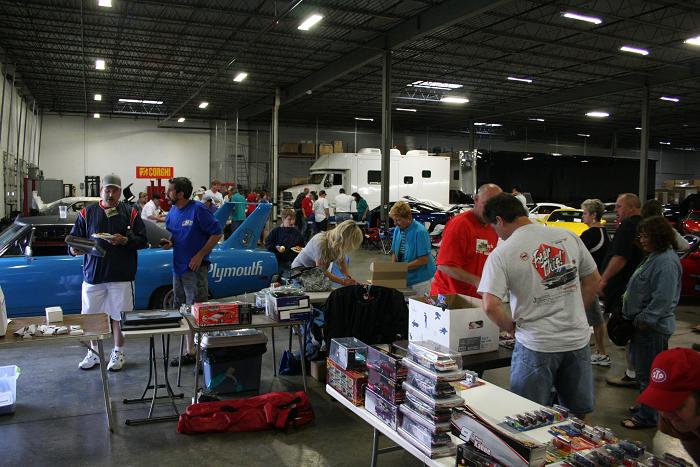 The informal memorabilia and toy swap was a great idea.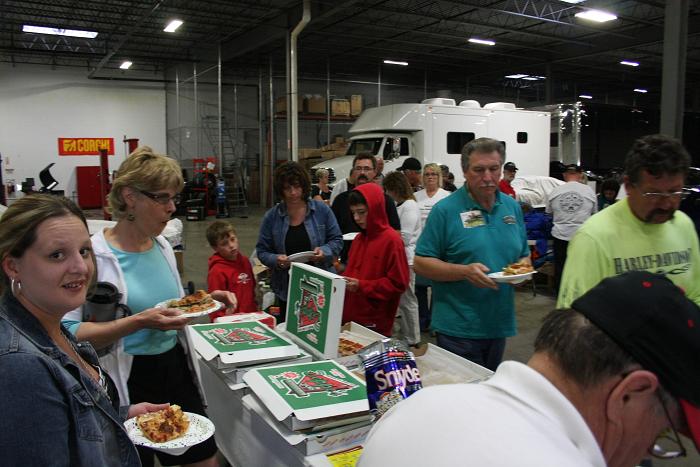 A pile of pizzas were vacuumed up in short order.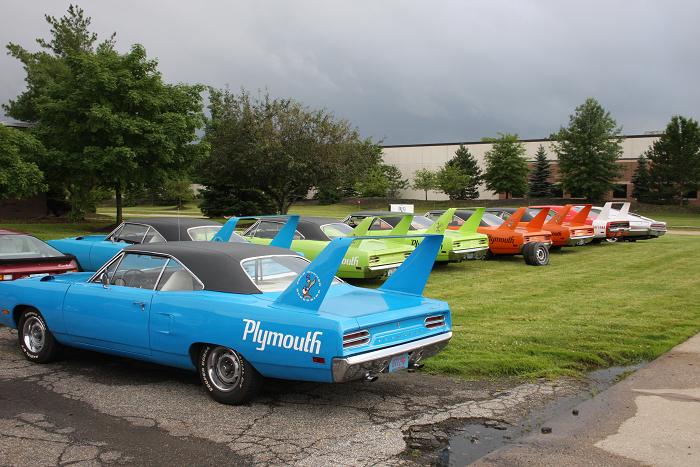 It's dried up again and we are outside RH Motorcars for the dinner and raffle.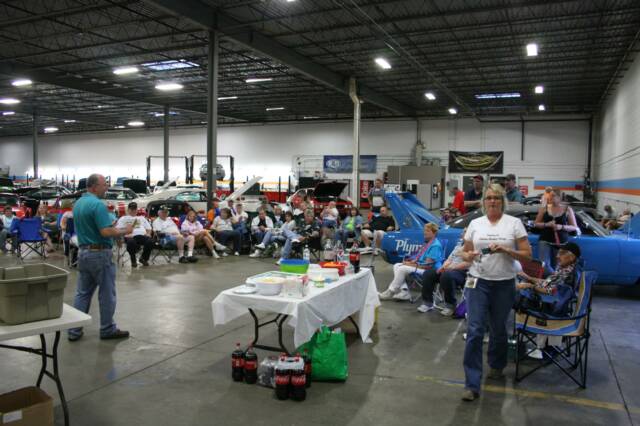 Doug Schellinger at left is master of ceremonies for the club raffle. We had a huge pile of stuff to give away too.   Thanks to all who contributed and donated items.