Gene Lewis surprised us all with his freshly restored 1969 Hemi Charger R/T.   Some of you may have seen this car painted Hemi Orange.    Gene decided it was time to take it back to the original F8 green.     Gene is in the final stages of restoring his Daytona as well. 

Monster Mopar Weekend - 2010

Friday show at Rich & Judy Bolzenuis' home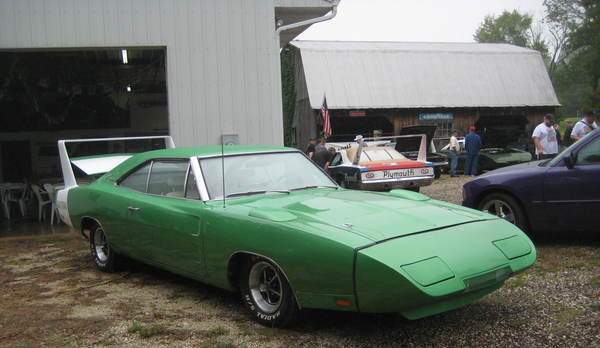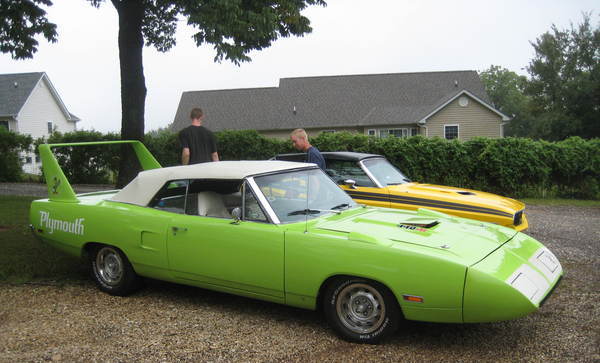 Bill Hoehn is an original owner of this beautiful F6 green Daytona.   Bill brought a table full of documentation and memorabilia saved over 41 years of continuous ownership.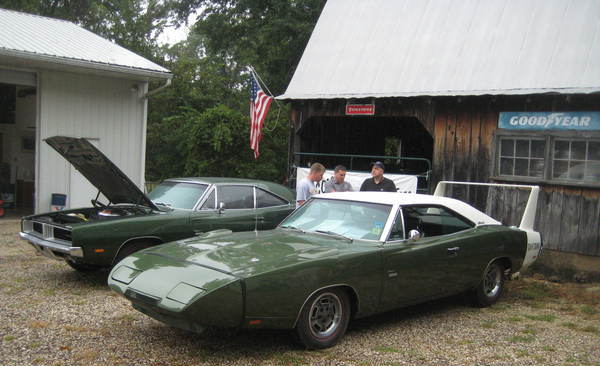 As a companion to Gene's Hemi Charger, is Phil Jackson's Hemi Daytona.    Very heavily optioned, it made its show debut this weekend wearing a white vinyl top like it had when the first owner had it.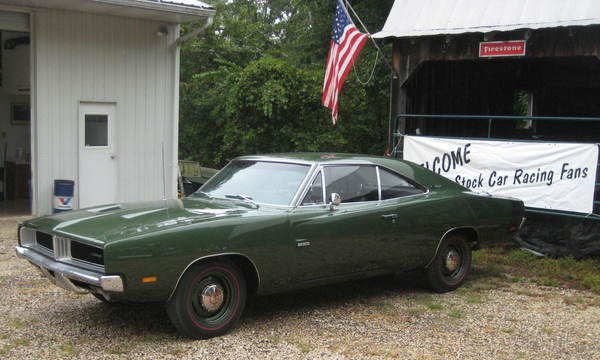 Stuart Sutton from Kansas brought his "Birdable".   All the parts on it are original OEM Superbird items.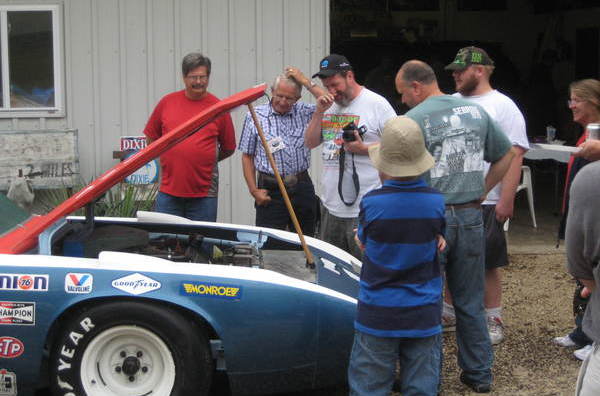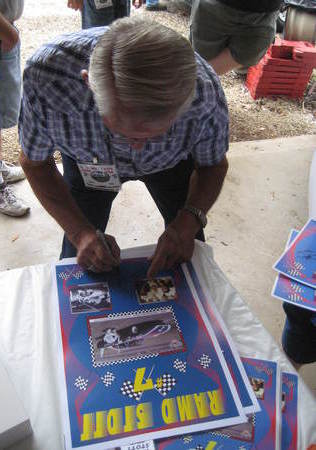 Our host Rich Bolzenius owns this yellow 440 6-pack Superbird.

Ramo Stott drove this Superbird to a win at the 1970 ARCA 300 at Daytona.    It was the first win for the Superbird model.   Old number 7 is in very original condition.   Aside from a paint job in 1990, it is much as when Ramo last raced it.    The Grey Rock windshield cover is an original piece of memorabilia.    It is made from an asbestos fabric with magnets to hold it to the car.   The helmet on the car is from the 1995 Winston Legends event at Charlotte Motor Speedway, which Ramo won.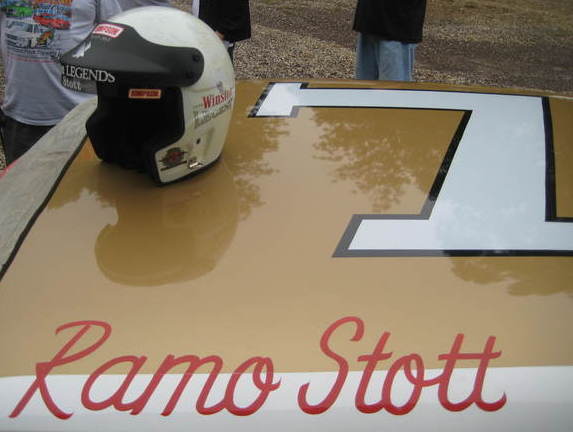 Long time members Dick and Beverly Drake enjoying the afternoon with their family.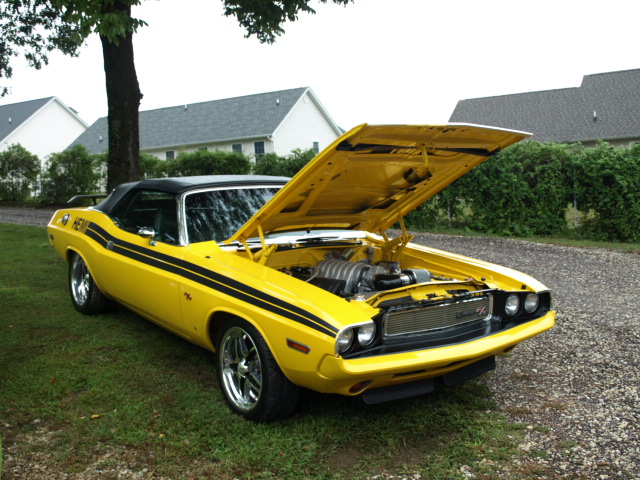 Ramo is explaining some underhood details on the race Superbird to the crowd.

Ramo showing us a superspeedway torsion bar.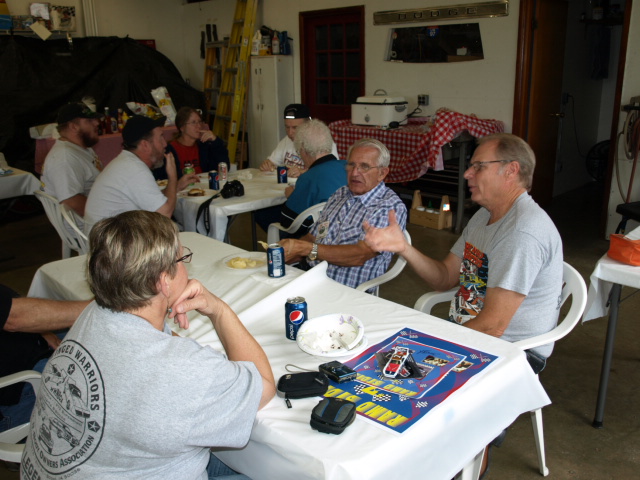 The torsion bar is aproximately 2 inches is diameter.    Chrysler had a "cookbook" of settings created for each race track so in theory, the car could be optimized with the right springs, torsion cars and control arms.    I say "in theory" because Ramo told us it didn't always work for him.    Sometimes, you had to do things a little differently.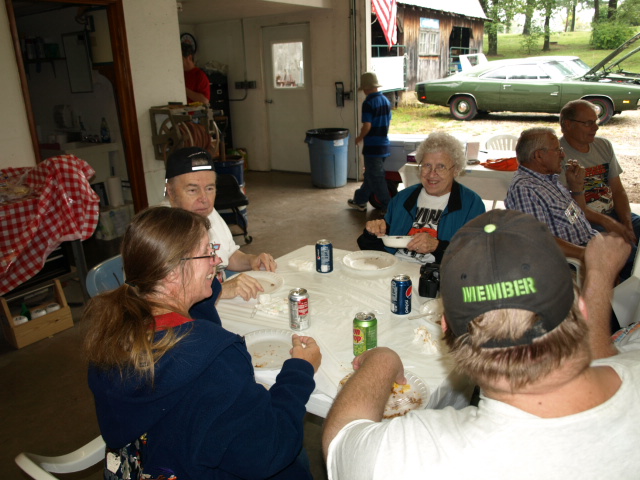 Ramo's helmet from the 1995 Winston Legends race.   How many signatures can you recognize?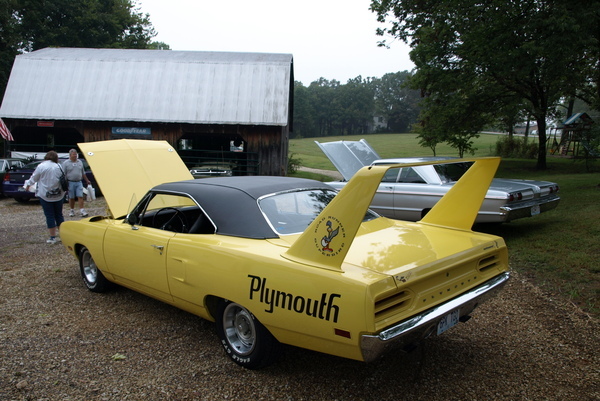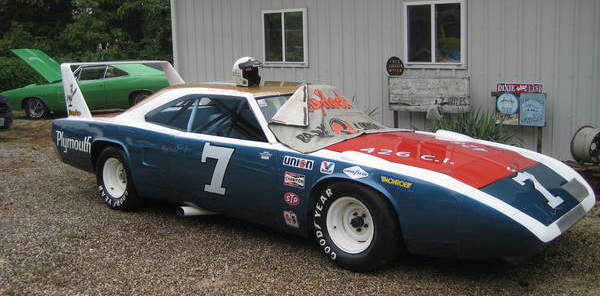 Ramo snaps a photo of his faithful old mount.   Ramo also won the 1970 ARCA Vulcan 500 at Talladega and the 1972 USAC 200 mile race at Michigan International Speedway in this car.    Ramo retired the car after the 1972 season and kept itin his pole barn for many years, until he sold it intact and in running condition in 1988.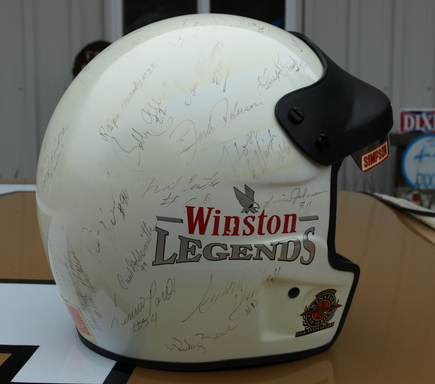 Ramo poses with Eric Schellinger in front of old number 7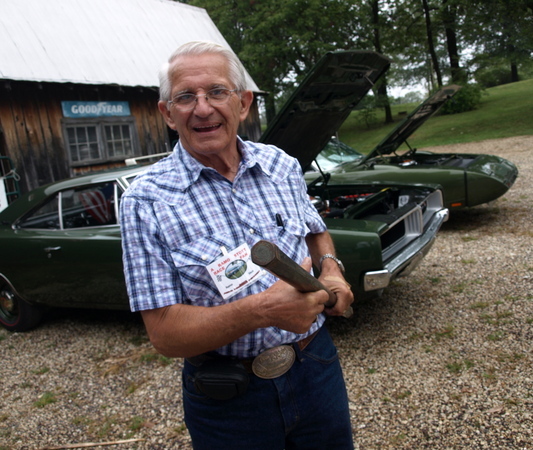 Ramo's Superbird is pulled by this special edition 3/4 ton Dodge.    It's a "RAMO 2500".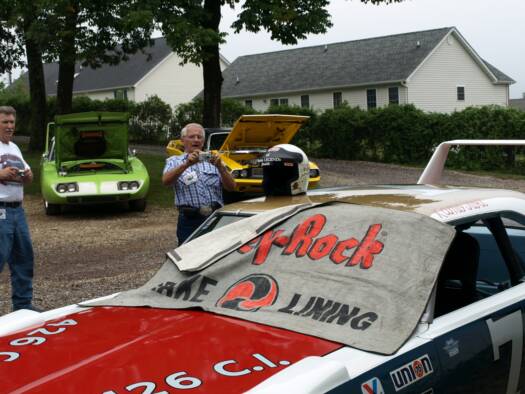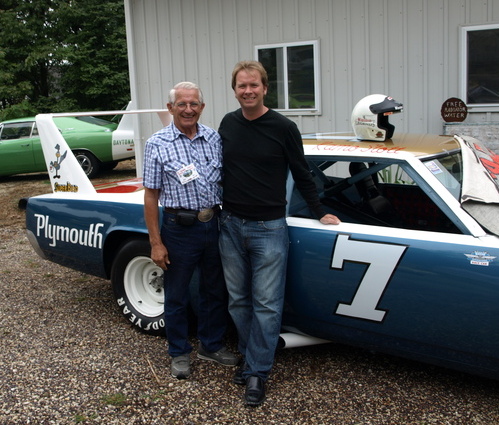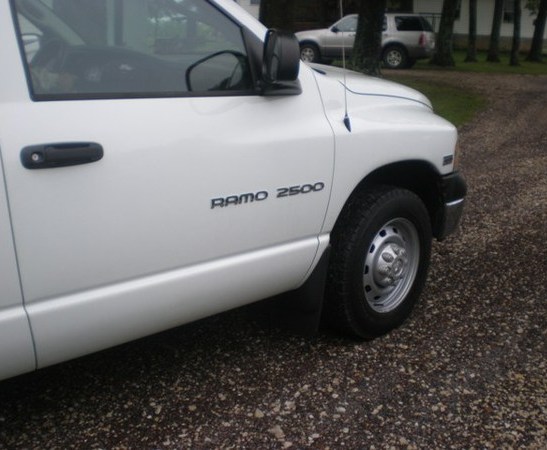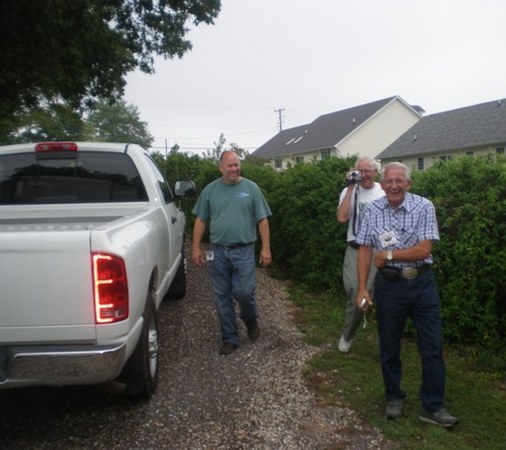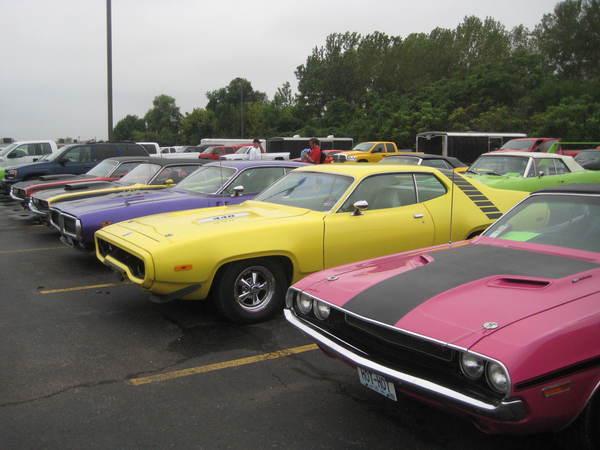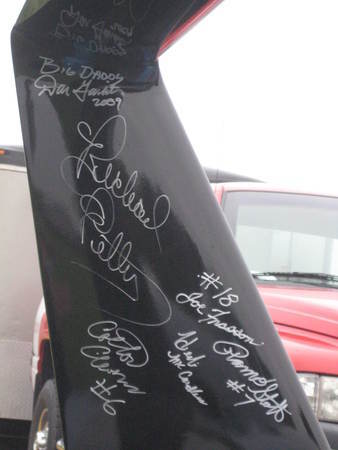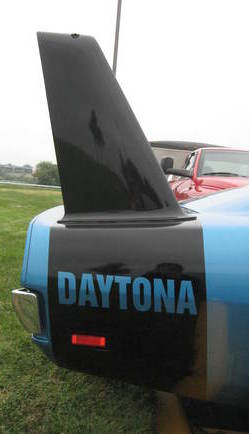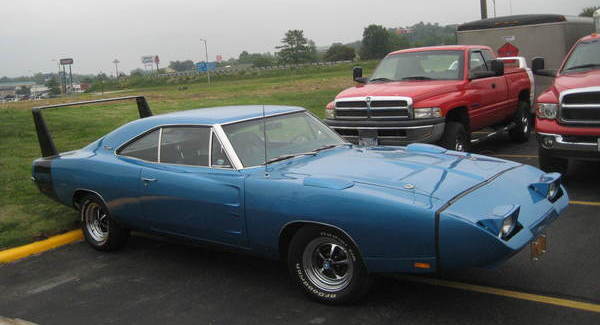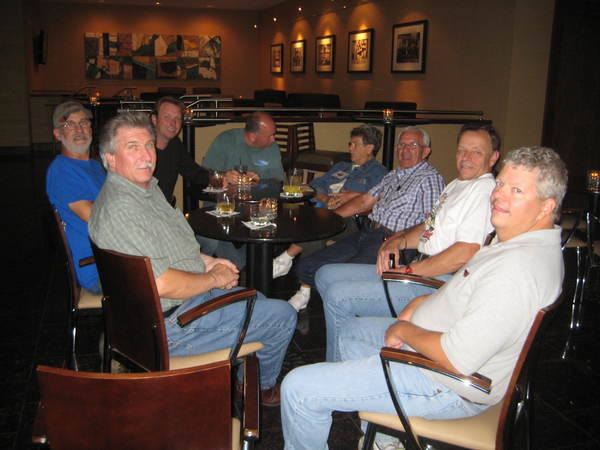 Our special guest Ramo Stott signs one of the posters created for the weekend event.

Ramo talking racing with Kurt Lawson of Minnesota.    Kurt was part of a short track team that would compete against the big boys every so often.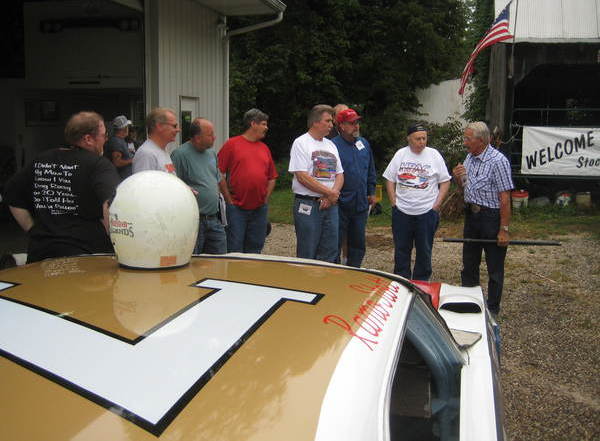 Ramo gets a good laugh out of the "Ramo 2500" truck as Doug Schellinger and Bill Hoehn with camera look on. 

Back at the Doubletree hotel, cars are coming in Friday afternoon, and the rain is drying up. .

Robert Barnick's B5 blue 4-speed 6-pack Daytona as collected a few signatures over the years.  

The DSAC gang at the hotel on Friday night.   From left to right,  Chuck Porter,  Mike Borkowski. Eric Schellinger,  Doug Schellinger,  Judy Stott,   Ramo Stott, Robert Barnick and Brent Evans.