In the late 1970's, Don Danielewicz, a Milwaukee Wisconsin USAC racing enthusiast owned and restored the original Dave Marcis race Daytona chassis.
To give you a little background, Don spent a great deal of time in those days chasing down new and used Wing Car sheet metal. Don bought Superbird noses for $250 direct from Creative Industries the original supplier to Chrysler, at a time when you could still buy them over the counter at the dealer for $700. I can remember seeing noses stacked up in the back of a pickup at his house. Scroll down and see the photo at the bottom of this page.
Don also bought a lot of parts from different midwestern race teams. He got a NOS Daytona nose from Don White. He bought whole pile of stuff from Nichels Engineering. .Don's garage in those days was a fabulous sight. Superbird fenders, twenty sets of turn signal frames mounted on a dowel rod, Superbird rear window plugs, Superbird hoods, the actual door skins and wing off Bobby Unser's Nichels Superbird. And these were all at working mans prices, even for the day. It was incredible.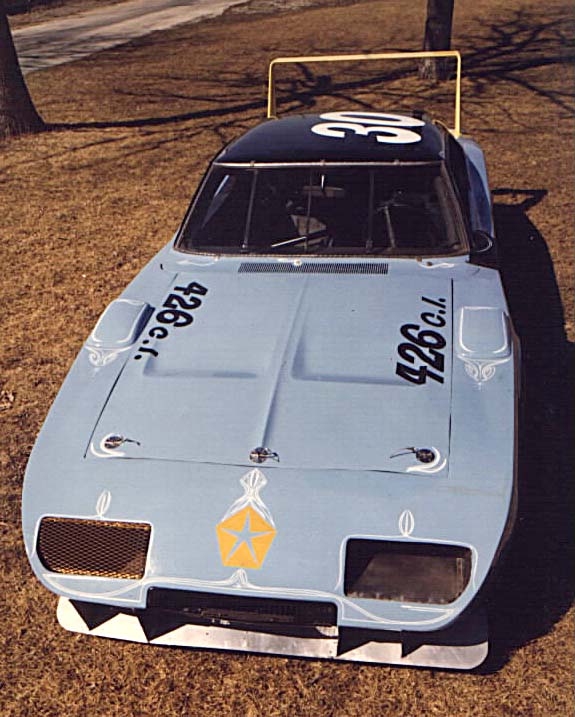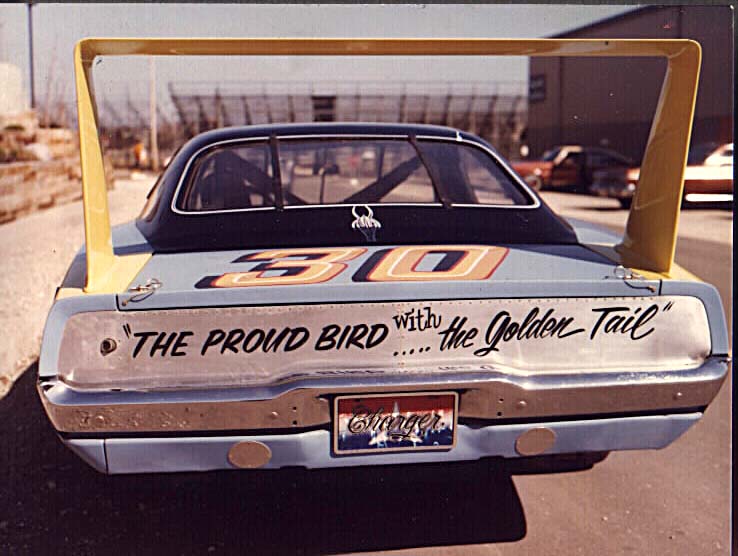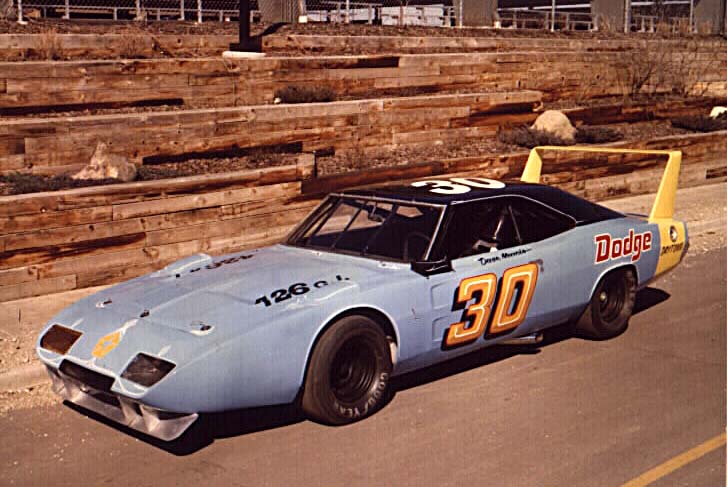 In the winter of 1977, we got a call from Don to come over to his place and there was a surprise. On the hauler outside was a well used '69 Charger NASCAR racer , direct from Dave Marcis in North Carolina. Dave had acquired the car in 1969 from A.J. King who ran Pete Hamilton in the car in 1968. Dave raced this car as a Charger 500 and a Daytona. After the wing car era, it was converted back to a standard '69 Charger and raced in NASCAR through 1972. If that wasn't enough, after 1972 it was raced as a NASCAR Late Model Sportsman through the mid 1970's. It definitely led a long life on the track. It had been in a wreck at Daytona, repaired and was in primer when Don bought it.

After Don acquired the car, he hired Terry Nichels to take it back to Daytona trim. Terry did a great job on the car. The lettering on the trunk is what was on the car when it raced. The yellow on the tail stripe is a Ford color, "Custards Last Stand".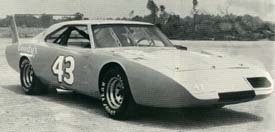 There are certain Nichels features built into the car when it was rebodied. The front spoiler is a dead ringer for the one used on Unser's #5 Nichels Superbird in 1972. Also on the car is the NIchels design drivers air intake box. The dry break fuel fill is not period correct.
In 1980, the car was advertised for sale for $25,000. Eventually, it was sold to a collector in Omaha Nebraska where it stayed for several years. All the above photos were taken in 1978.

In the late 80's, it was sold and repainted up like a Richard Petty #43, with Goodys Headache Powder sponsorship. It was last spotted at Miami Homestead in 2003 repainted again as a Winston showcar. It's kind of a shame the car has been painted as something it's not, as it was restored as a proper Marcis car ready to go.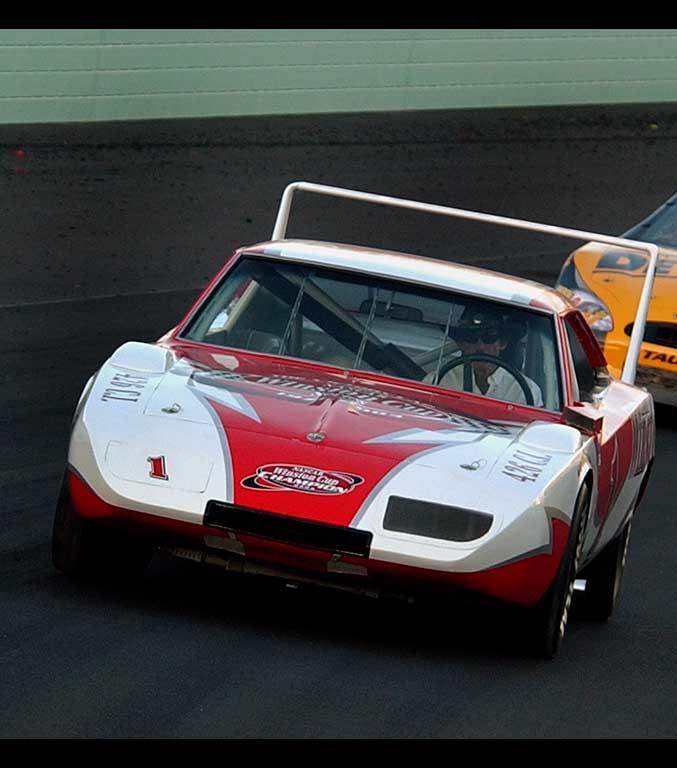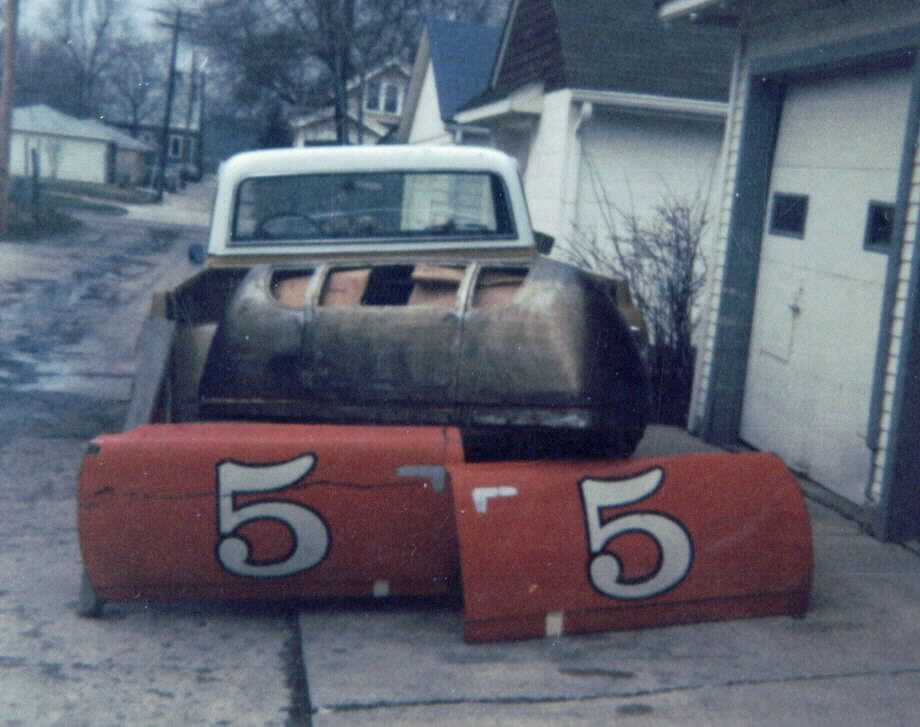 And Just One More Thing...
Just some junk in the back of the truck, huh? This photo was taken in 1978 outside Don Danielewicz' garage just after a parts finding junket. The noses are NOS right from Creative Industries. The doors are the actual raced pieces off the Bobby Unser NIchels Engineering Superbird. Those doors were last seen up for grabs at the Auburn Indiana auction about 10 years ago. Where are they now?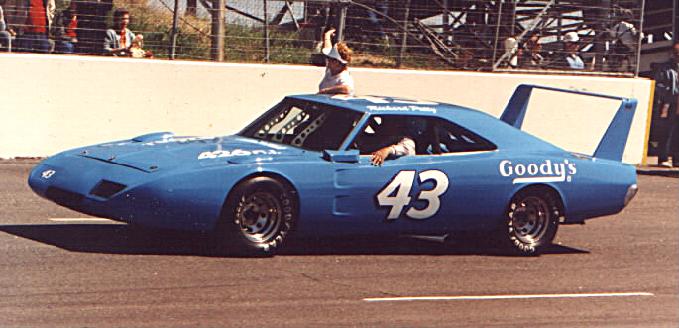 A color shot of the Marcis Daytona in the fakey-doo Petty colors.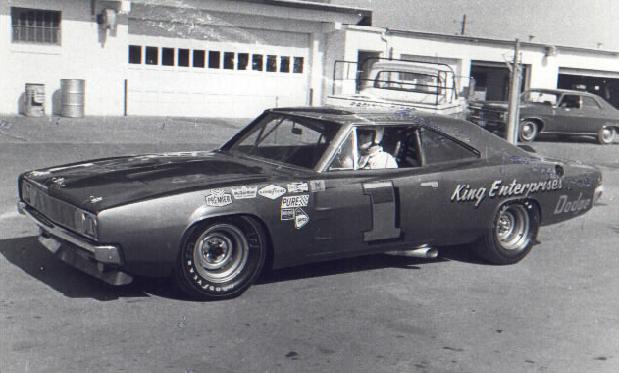 Marcis' Daytona started out as a '68 Charger owned by A.J. King and driven by Pete Hamilton. Shortly after this photo was taken at Daytona '69, King folded his operation and the car was bought by Marcis' sponsor Milt Lunda. Dave ran it as a Charger 500, and later converted to a Daytona.