After the factory stock car program wound down, Chrysler had lots of knowledge on how to make stock cars handle and go fast. Larry Rathgeb, Manager of Stock Car Programs saw a need for a turn-key car that was capable of being run on the local short track level, and yet adaptable for professional racing. And so, in 1973-74, the Chrysler Kit Car was born.
Kit Cars , "The Short Track Stormer That Comes in a Box", were available from your local Chrysler-Plymouth, or Dodge dealer in four stages of completion ranging from a basic chassis, a rolling chassis, complete less sheet metal, and complete car.

Dale Earnhardt Tests the Chrysler Kit Car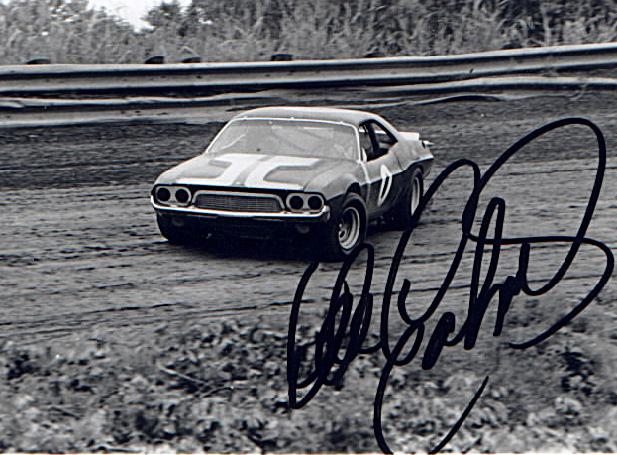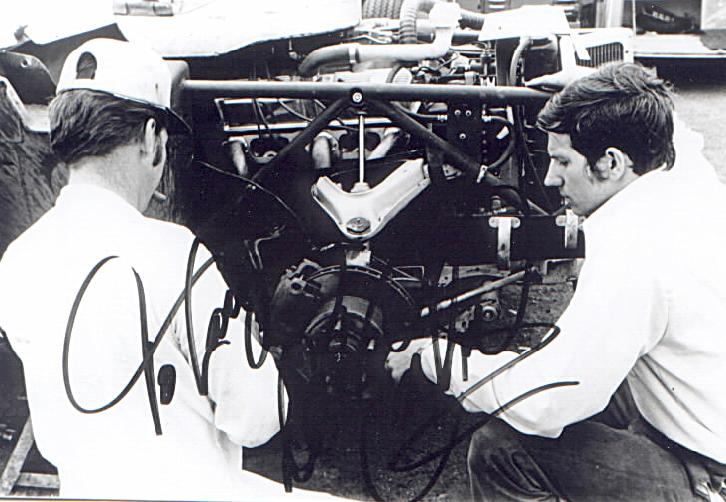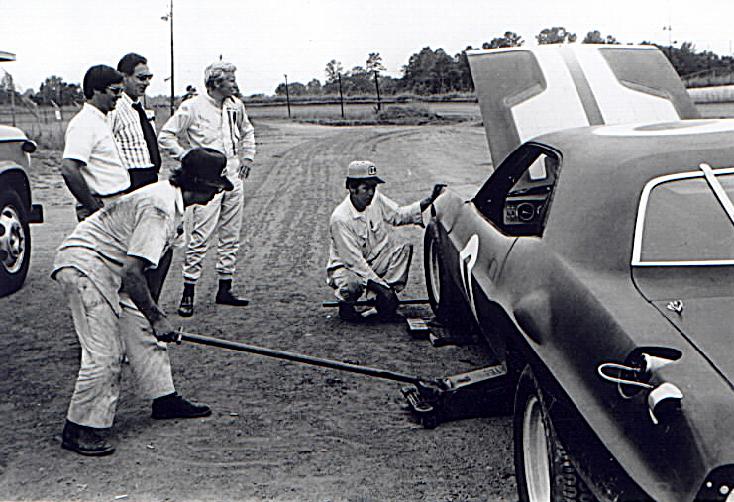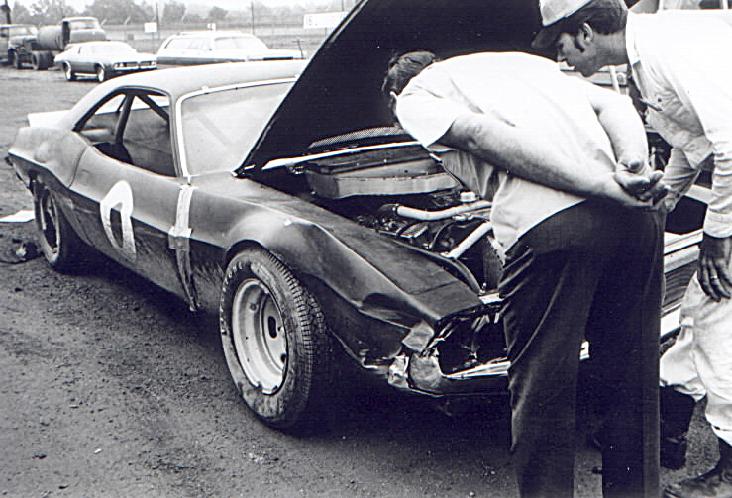 The Petty Enterprises crew servicing the Kit Car. Randy Owens in the jack. Randy was Richard Petty's brother-in-law and was killed at Talladega in 1975. Tex Powell has the tow guage at front. Test engineer and Kit Car designer Larry Rathgeb is wearing the tie. To Larry's left is Pete Hamilton.

The prototype Kit Car wore Challenger sheet metal. Pete Hamilton is associated with the development of the car, and his name is most often mentioned in published accounts.
In the summer of 1974, Larry Rathgeb approached K & K Dodge Crew Chief Harry Hyde with a problem. He was going to test the Kit Car at Concord Speedway near Charlotte on a particular day, and needed a dirt track driver familiar with the track. Pete Hamilton was not experienced on dirt. Hyde told Rathgeb, "Why don't you call this young man. He'll do a good job for you." The young man was a then unknown Dale Earnhardt. At the time, he was racing six-cylinder cars at Concord, and had not raced a v8 car.

Earnhardt completed the test with flying colors. When it was done, Larry Rathgeb sat down with Earnhardt and they talked. Earnhardt told him he was having a difficult time making it in racing. He had recently lost his father. He said that with his family obligations, that he was not sure if he should keep going, or drop racing and go back to full time work.
Rathgeb recognized Dale's raw talent, and told him, "Well, based on what I saw here today, I think you ought to keep doing what you're doing." And the rest is history.
I would speculate that if this test had taken place in 1967 or 1968, that perhaps we might have seen Earnhardt in a factory Chrysler car in 1970.

Earnhardt's testing paid him $800 for a two days work. For him, it must have been huge money at the time.
Kit Cars were developed and raced successfully through the early 1980's. Many Kit Car chassis saw duty in the USAC stock car series.
All photos published here are courtesy of Larry Rathgeb. Dale Earnhardt authenticated and signed them in 1994 during a visit at Talladega.