The Holman-Moody Talladega Poster
by Doug Schellinger
One of my favorite aero warrior collectibles is the Holman-Moody issued poster of David Pearson's Torino Talladega. The posters were about 18" x 24" on a parchment like paper and showed an x-ray view of the famous #17 with the blue and gold body colors overlaid. The illustration below is from the "Stock Cars '70" magazine, and the Holman-Moody catalog. It's the same poster artwork with the text added.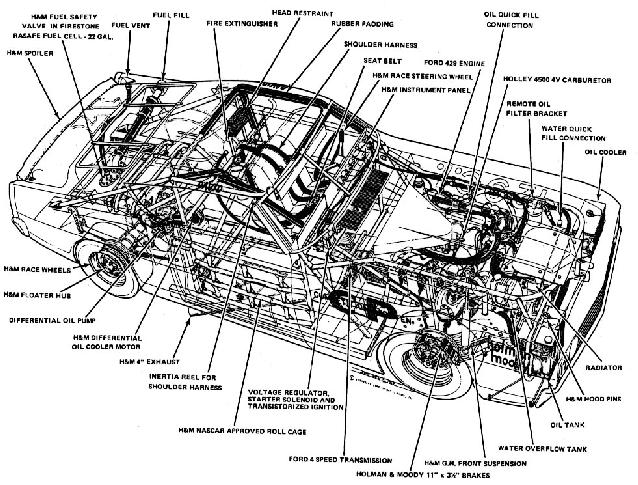 At the Ford 100th celebration in Dearborn this past June I was lucky enough to catch up with John Bach, the original artist of the poster. John currently lives in California, and was participating in the show with Doug Schultz's ex-Pearson Talladega.. I was delighted to have John tell me all about the poster and it's origin.
Q: Tell me a little bit about the years you worked for Holman & Moody?
A: "I started with Holman-Moody in '68, at Bill Stroppe's place, in Long Beach (California). Holman wanted me to make some illustrations for him. So I made some illustrations of the Ford marine engine so he could put it on the cover of his marine catalog. And he liked that. He said, "Well you seemed to work out pretty good. You want to come back to Charlotte?" And I said, "Yeah". When Bill Stroppe found out about it he tried to get me to stay with him, and told me, "You don't want to back to Charlotte". I said, "Yes, I want to go to Charlotte, and I want to get next to stock car racing." He tried to get me to stay, but I wanted to go back east and I did. So in February of '69, I moved back to Charlotte and started work at the shop there. I got to know Ralph Moody and all those guys working there at the time. One day I asked Ralph if I could get on the pit crew. And he told me, "Yeah, there's an opportunity coming up." And it came, and I was hired to work on the pit crew and keep score on the car, timed it and all that. And I worked there until David Pearson left in 1971, and Bobby Allison came on and I was on the pit crew on his car, the #12 Coca Cola Mercury. We won some races that year. It was just a really fantastic time, going to races and being associated with these great people. In '73 Holman sent me up to Ford to work on the smog program.
When that was over, I went back to Charlotte, and Holman laid me off, because he said he didn't have any work for me there. I moved back to Oxnard California, and went to the Ontario race in '74. And Glen Wood asked me to work for him for the west coast races. And so I did from '74 through '88, when Riverside was closed and they didn't come out here any more. "
Q: Do you ever drive up by the old Riverside track was?
A: "I've been by it a few times. It's kind of dumb and kind of sad they closed that thing down. Just like Ontario. It was right next to the freeway and was accessible from east and west. It was a great track, and a real shame they closed it financial problems I guess. You can still drive by there and see the remnants of it. You can still see the banks and part of the track. It's still there."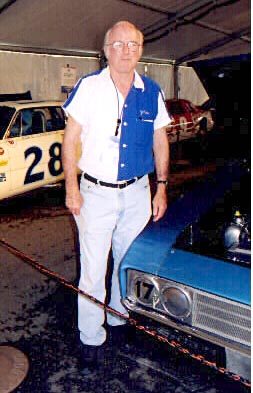 Above: John proudly shows his colors next to Doug Schultz's original David Pearson race Talladega

Q: Tell me about the cutaway Talladega print you did?
A: "One day in the Sunday Charlotte Observer, they had a full page ad of a '68 Torino. So I took the picture of the newspaper over to a photo shop, and had them reverse it, so it would look like the car was facing the grandstand, and they enlarged it until it was about three feet long. And I traced the outline of the Torino on vellum, and went down into the yard where all the parts for the wrecked cars were laying outside the fab shop. And I'd stand around and sketch the front end, and this and that. I'd go back upstairs and incorporate it into that line drawing and get the right perspective for it and everything. And I'd go back and forth and draw some more and put them all into the car. It's all freehand. Just managed to get everything right.
"I was working on it one day, and Holman came in and said, "What are you doing here?". I said, "I'm making a drawing for you." And he says, "Well who told you to do that?" I said, "Nobody, I just wanted to do it for you." And Holman told me, "Well, okay, keep up with it." Ralph Moody came in one day when I was working on it, and said, "Well, I hope you're not showing any secrets there." I said, "Ralph, I wouldn't know a secret if it hit me between the eyes." But there must have been something, otherwise he wouldn't have said that. But I didn't know anything.
"One day, Holman called me into his office and asked me if I'd go over to the airport and pick up David. At the time, I had a '59 Ford station wagon with a 427 in it.. We're coming back to the shop, and Pearson said, "What's this thing got in it?" I said, "A balanced and blueprinted 427 side oiler." He said, "Well stand on it!" So I did a little bit on the little road they've got there. And I asked Pearson up to the office to show him the drawing I was making. He looked at it and said, "How'd you get all those little bitty lines in there?" It's been great fun. I've had a lot of people talk to me about it."

Q: Were you a draftsman by trade?
A: " I was a technical illustrator. I did a lot of illustrations for Holman and his parts catalogs and different things. I did that for twenty-five years until I got back to California. That's a good career, and I was never without a job. "
Q: Do you know how many of those cutaway prints were made?
A: "Yes, there were 2000. When they were first made, John Holman took 200 of them and had them framed and sent them out to the big wheels in the motor industry. Henry Ford, Lee Iacocca, Scott Carperter, the astronaut. John Holman showed me the list who they were sending them to, and I was foolish. I didn't take it down and make a copy of the list for myself. The ones he sent out had two blue ribbon seals on them. One said "1968 NASCAR Champion", and the other said "1969 NASCAR Champion". So if you find one of the 200, you've got a rare piece."
Q; What kind of a guy was Pearson to work with?
A: "Nice guy, very cool, very reserved. You've probably seen his interviews where HE says he's not a good speaker. He's a super nice guy and a lot of fun to be around. When you're with the Holman & Moody pit crew, and he knows everybody, he's just a really sweet guy. And Bobby Allison was great too. Now he's tough. We'd go to places like Dover, Charlotte and Darlington where the humidity and heat knocked drivers out of the cars for relief drivers. Never Bobby. He never got out of the car because it was too hot or he was too tired."
Q: It sure sounds like you got involved at a good time.
A: "I feel so lucky. I just had to be the luckiest guy in the world to be able to do this, work with those people, see those people and talk to them. You know, you don't say much, you just listen and hear the stories. One time, they took Joe Weatherly and threw him into the cab of a pickup truck with no door handles and no window cranks. He was such a prankster, and they got him. He couldn't get out of the truck. It was great."
Our Thanks to John Bach for taking time to speak with us.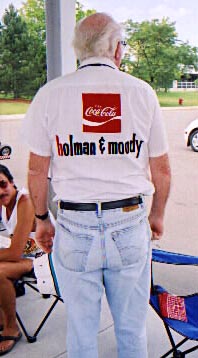 John wore a different Holman & Moody team shirt every day of the Ford Centennial. Here he is wearing his original 1971 Bobby Allision Coke shirt.