Vintage and Custom Aero Warriors

We hope you enjoy these personalized Aero Warriors from days gone by...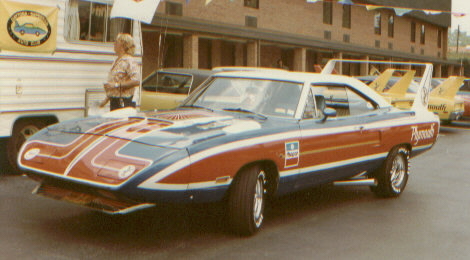 George Tamasi, from the Bronx New York owned this eye catching Bird.  Easily the most heavily modified car when it was photographed at the 1976 winged car meet at Talladega.  Check out the side exhaust, modified hood, and custom front spoiler.   George once attempted to wind tunnel test a Jo-Han plastic model Superbird in a real wind tunnel.  As I recall, the wind tunnel won that one blowing the plastic model to pieces...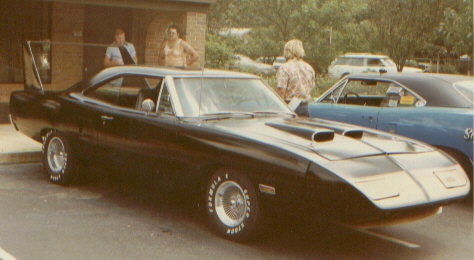 Also from Talladega, 1976, Kenny Brackett owned this Black Bird.  Check out the gold bird feathers painted on the rear wing upright.    Kenny was Birdless for many years, but I'm pleased to report he just bought another Bird in 2003.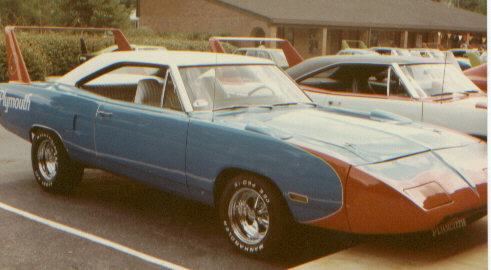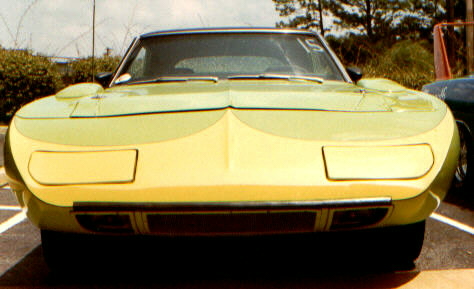 Still more cars from Talladega 1976, Carroll Beelers two Superbirds made an impression on me at age 14.   I loved the Petty Blue car.  There also was the matching Limelight and Lemon Twist Bird shown below.

Mike Redfern brought this striking Daytona to the 1976 Talladega meet.  This car had a mile deep lacquer finish in Limelight, purple and deep red.   The car was painted like this in 1970 by a painter named CharlieBang.  A brass metal plaque attests to this on the right front fender.  The car wore this finish until the mid 1990's, when it was repainted to a #71 Bobby Isaac K & K Insurance stock car replica.    Check out the cool rounded edges of the front hood and the leaded in nose.  Nicely done.   This car has been owned by Dan and Barb Gaddis for many years.

Here's a cool old red Daytona from the old days.   I 'm not sure who owned it at the time.  But check out the gas price on the sign above the car.  Sure dates the photo!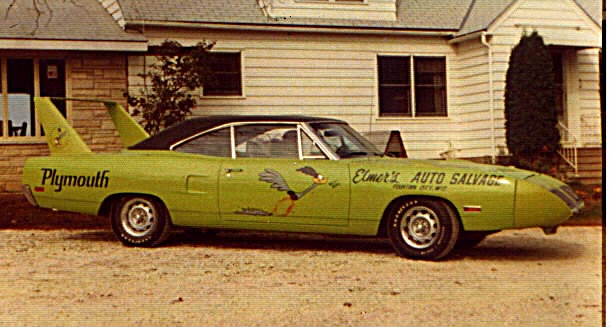 Elmer Duellman still owns this ultra low mileage original Superbird.   This photo was taken in 1975 wth 11,000 miles.  When I saw the car a year ago, it only had 13,000 miles on it.  It still wears its original paint with the advertising for Elmers Auto Salvage.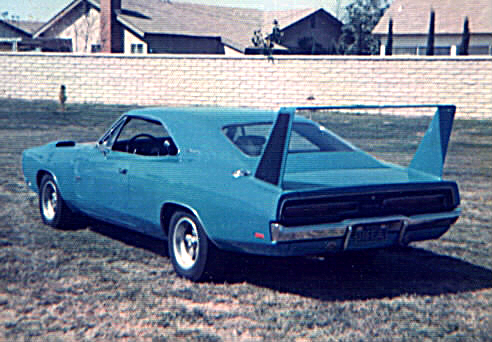 Jim Radke was one of the founders of the Winged Warriors Limited club in California and owned an exciting array of wing cars during his involvement in the 1970's.   This car was no exception as a Hemi Daytona with only 17,000 miles.   The photo is dated April of 1976.  If you have ever seen the old Street Machine magazines with different wing cars in them, those photos were all shot in this courtyard in southern California.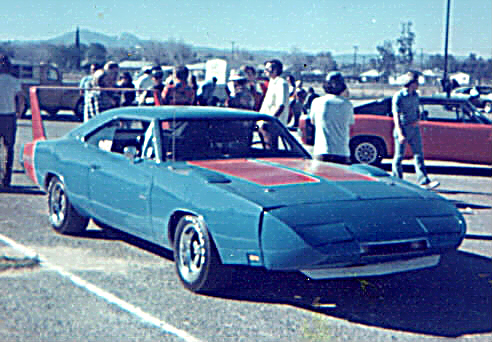 Here is Radke's Hemi Daytona a little later, at a Winged Warriors meet at the late great Riverside Raceway.  Now the car has the STP style red paint added to the hood, and a red stripe.  Very striking.  The car later appeared in a Maremont Muffler ad, circa 1978.  That's also current DSAC member Lou Whitfield's Charger R/T in the background.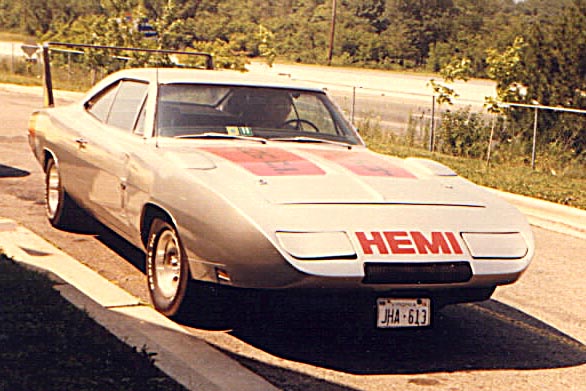 Mike McGuire of Virginia drove this Hemi powered Daytona to the 1977 National Meet in Ann Arbor Michigan.  A striking looking car, it was A4 silver with a red stripe.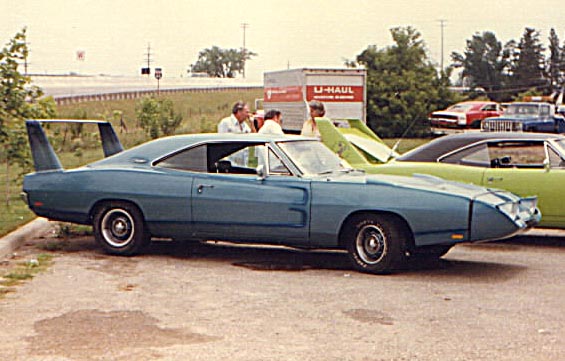 Another custom Daytona from the 1977 Ann Arbor Michigan meet.

Updated -   Feb 20, 2018 (new cars towards the bottom)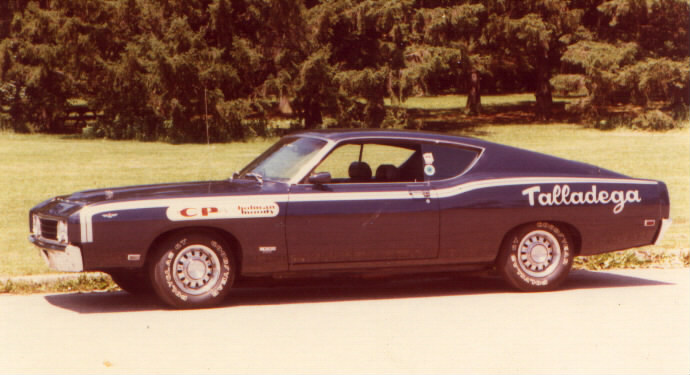 How about a nice custom Talladega?     This one was owned by Larry Reynolds, circa 1977.   Larry took a stock Talladega and painted silver Spoiler stripes and the Talladega race car script on the rear quarters.   A very striking car if you ask me.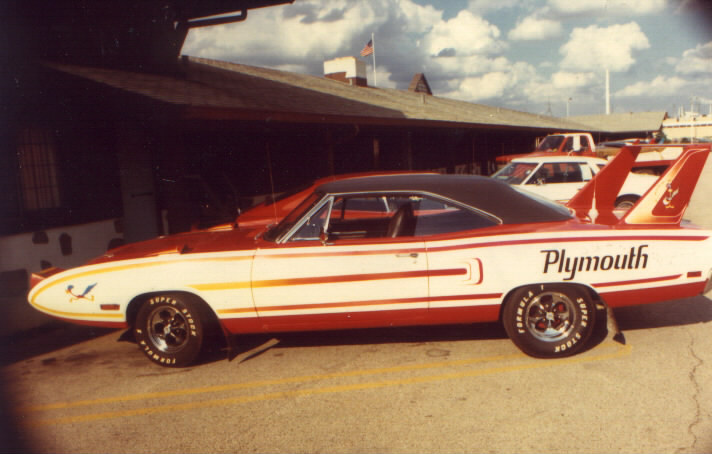 Roger Dennee of Wisconsin Rapids Wisconsin owned this sharp custom Superbird, shown here at the 1978 club national meet in Milwaukee WI

Donna Schill is one of the founding members of DSAC.     She owned this great looking silver Daytona, shown here in 1976.     This car is a 440 with a 4-speed and had a leaded in nose and black strobe stripes.   Wayne Perkins of Kansas currently owns this car, and it now has a Hemi engine.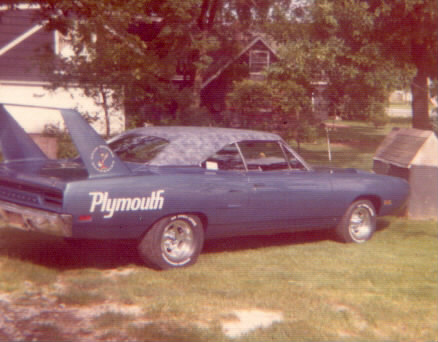 Dave Rychwalski of Greenfield Wisconsin owned this custom blue Superbird.    It has a floral padded top which actually looked pretty good.   It also got a large hood scoop and chrome tunnel ram manifold underneath.   This photo is circa 1976.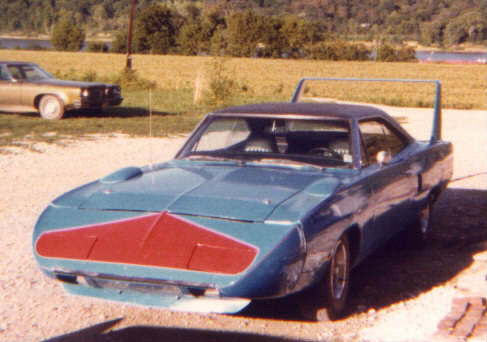 Well it's not a full custom, but I have to say that I like the Pete Hamilton nose paint treatment.   Shown here in 1979, this is a 440- 4bbl with a console auto.  It's been since restored in the mid 1990's. 

We can't leave you Charger 500 fans out.   This car was owned by RIch Meintel from California in 1976.   RIch also had a Q5 turquoise Daytona that has recently been located.  Where is this 500?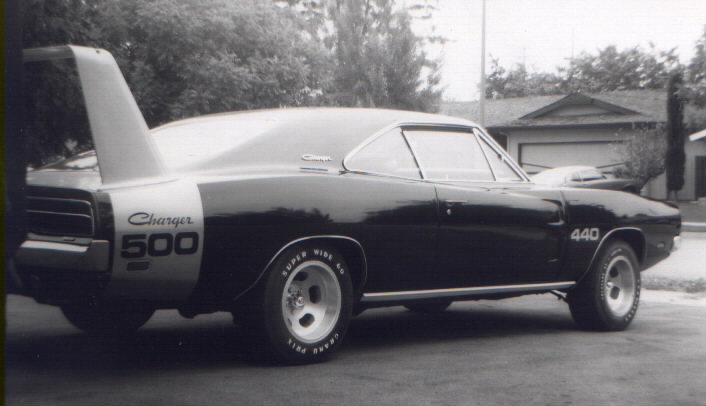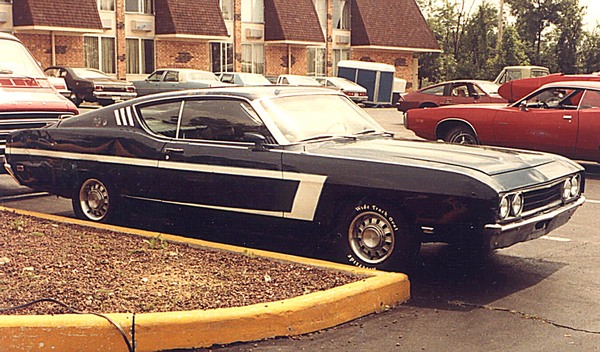 Talladega with a Boss type stipe treatment at the 1980 NASCAR Street Classics meet at Baltimore.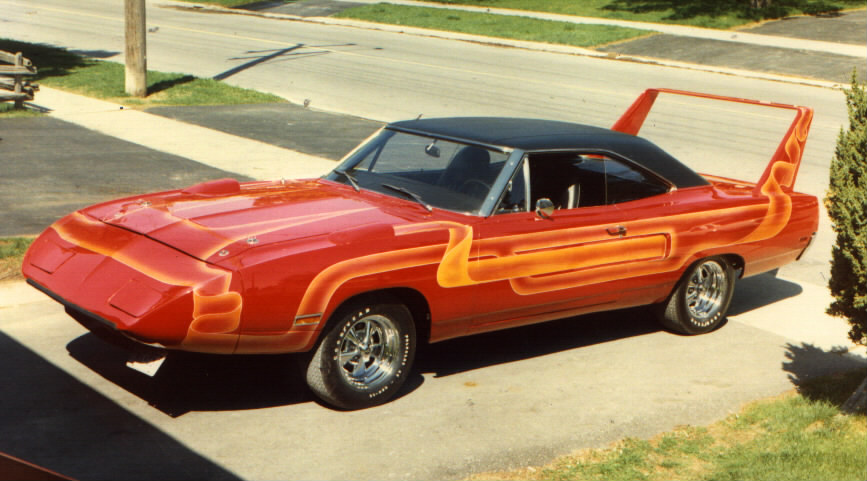 Don Charity's wild Superbird from Toronto Canada.

I remember seeing this Bicentennial Bird at Michigan International Speedway about 1979.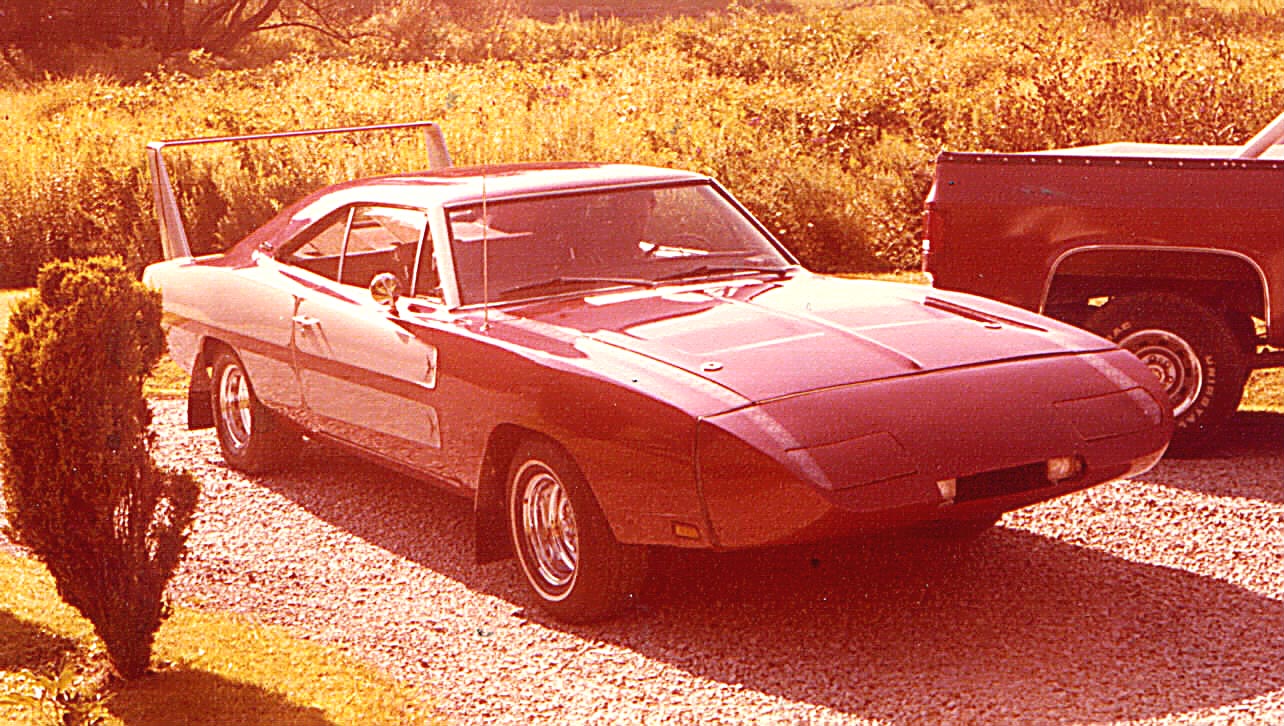 David Gault's custom Daytona from Pennsylvania photographed about 1977.   This car is an original white car with red stripe and has been concours restored, owned by Bill Stech.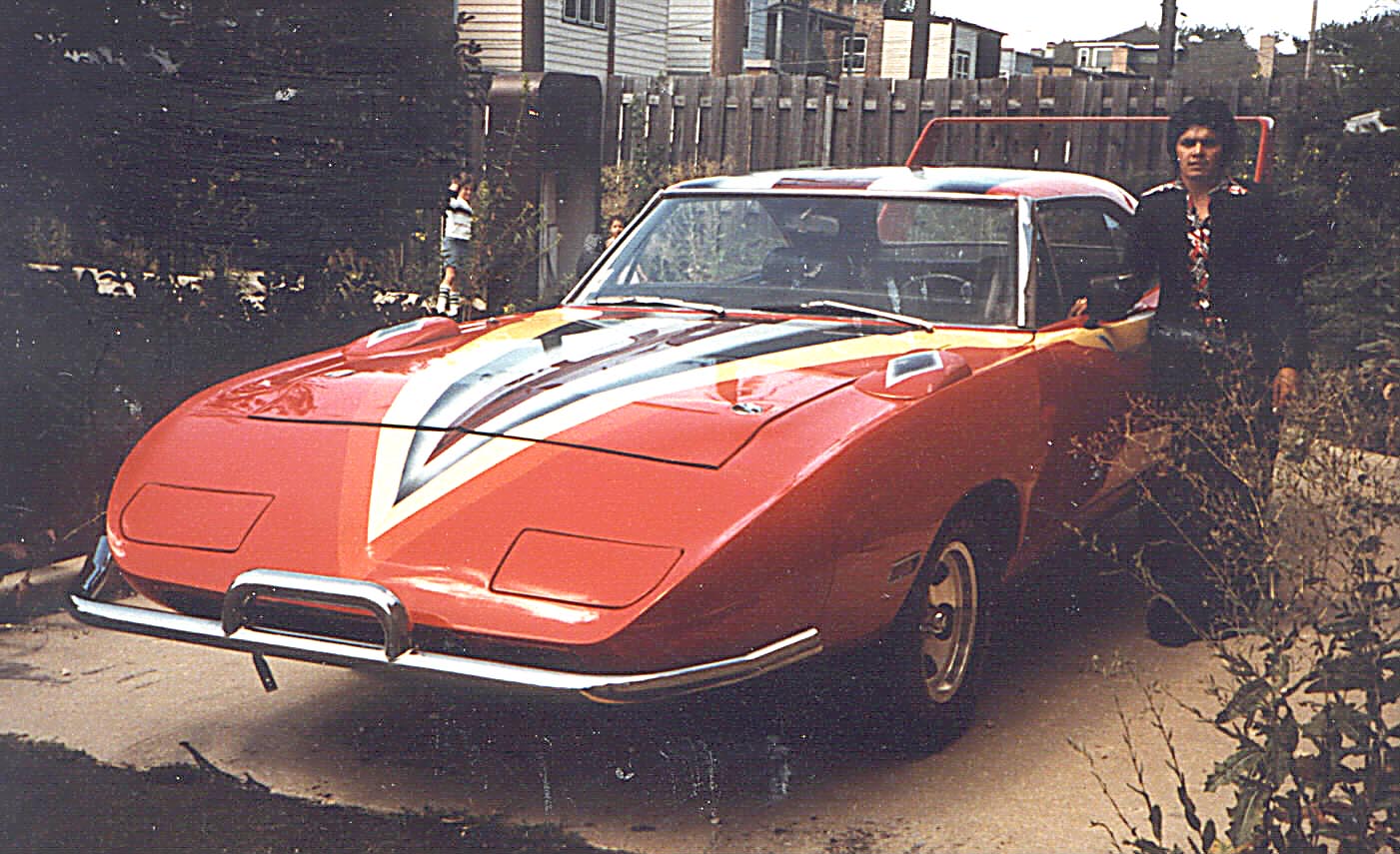 Julian Perez owned this wild custom Bird in the Chicago area in the early 1980's.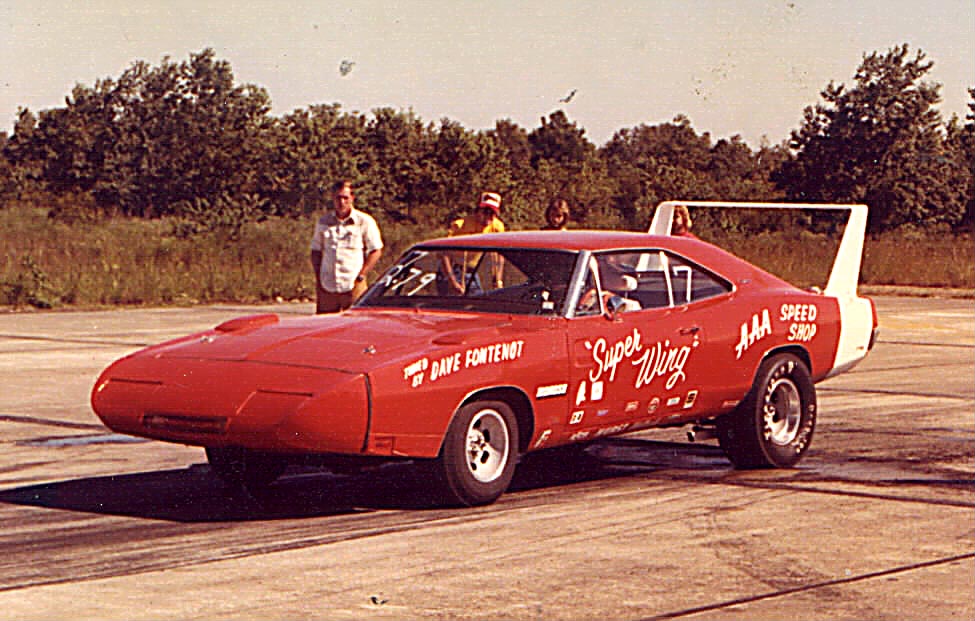 Dave Fontenot's cool custom Daytona from Louisiana.   I believe that Dave is one of the few original owners out there.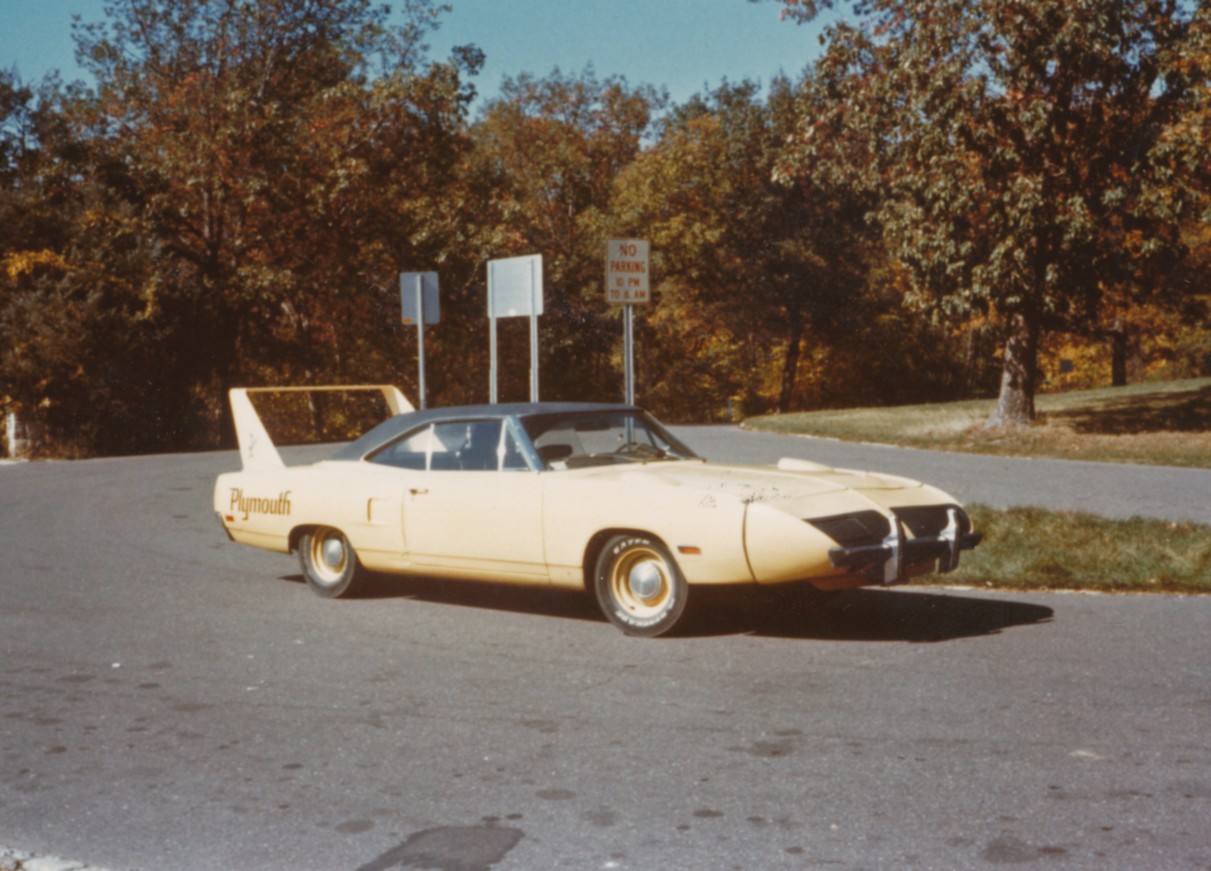 Ed Waldroff's Lemon Twist Bird from the Twin Cities area.    The front bumper was made by the Chrysler dealer.   The bumper guards are off a GM something or other.  This car is a 440, 4-speed.   Ed sold it some years back and I do not know where it is today.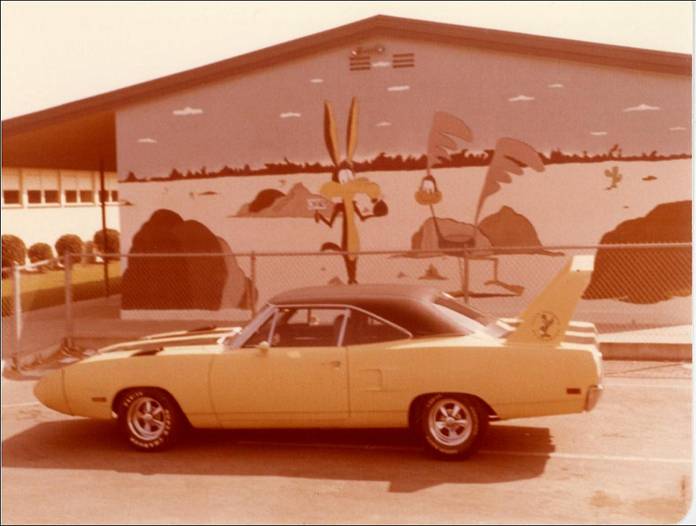 Joe Glosek submitted this period photo of his Lemon Twist Superbird.    Joe writes, "It is an original 4-speed Hemi car that I traded my '68 Charger RT plus cash for many years ago.   The guy I acquired the Bird from was a big time street racer and the police basically told him that anytime they saw him, he would be pulled over.  And, let's face it a yellow Superbird does stand out in traffic.  Anyway, the bird had custom racing stripes along with the Cragar Mags, a custom grille which I replaced with a stock grille and the head rests had extra padding to make them larger.  While the Bird wasn't radically customized, what makes this picture most interesting is the location.  It's a school that was located directly across the street from Knotts Berry Farm in Southern California.   The outside walls had painted pictures of the Road Runner and Coyote which made for a great photo backdrop for anyone with a Superbird or Road Runner.  I still remember several performance cars passing by and sounding their horns.  Unfortunately, the walls were repainted a solid color many years ago, so it no longer makes a nice backdrop to take pictures."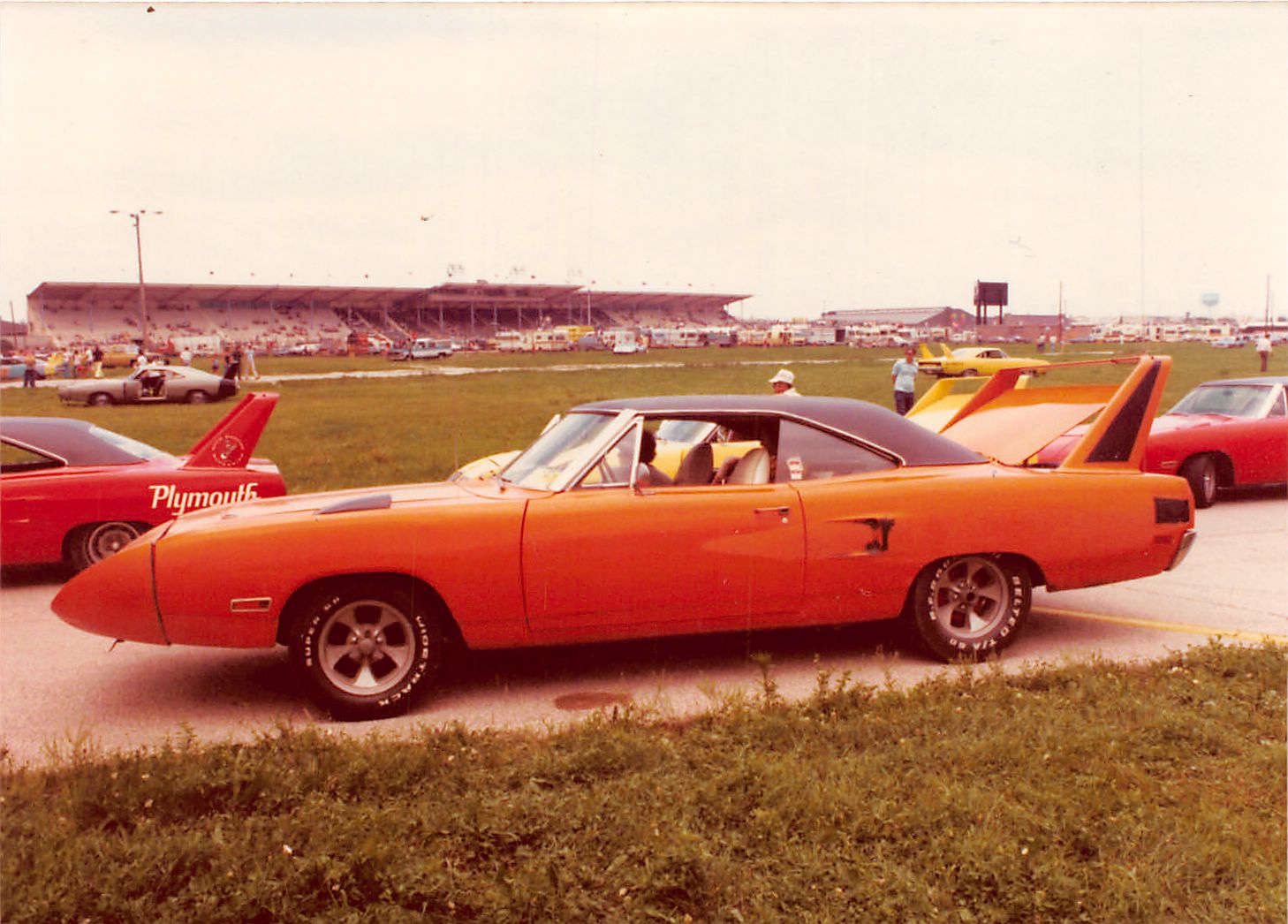 From the 1978 DSAC National Meet.    This VItamin C Bird was owned by Bill Mears from Texas.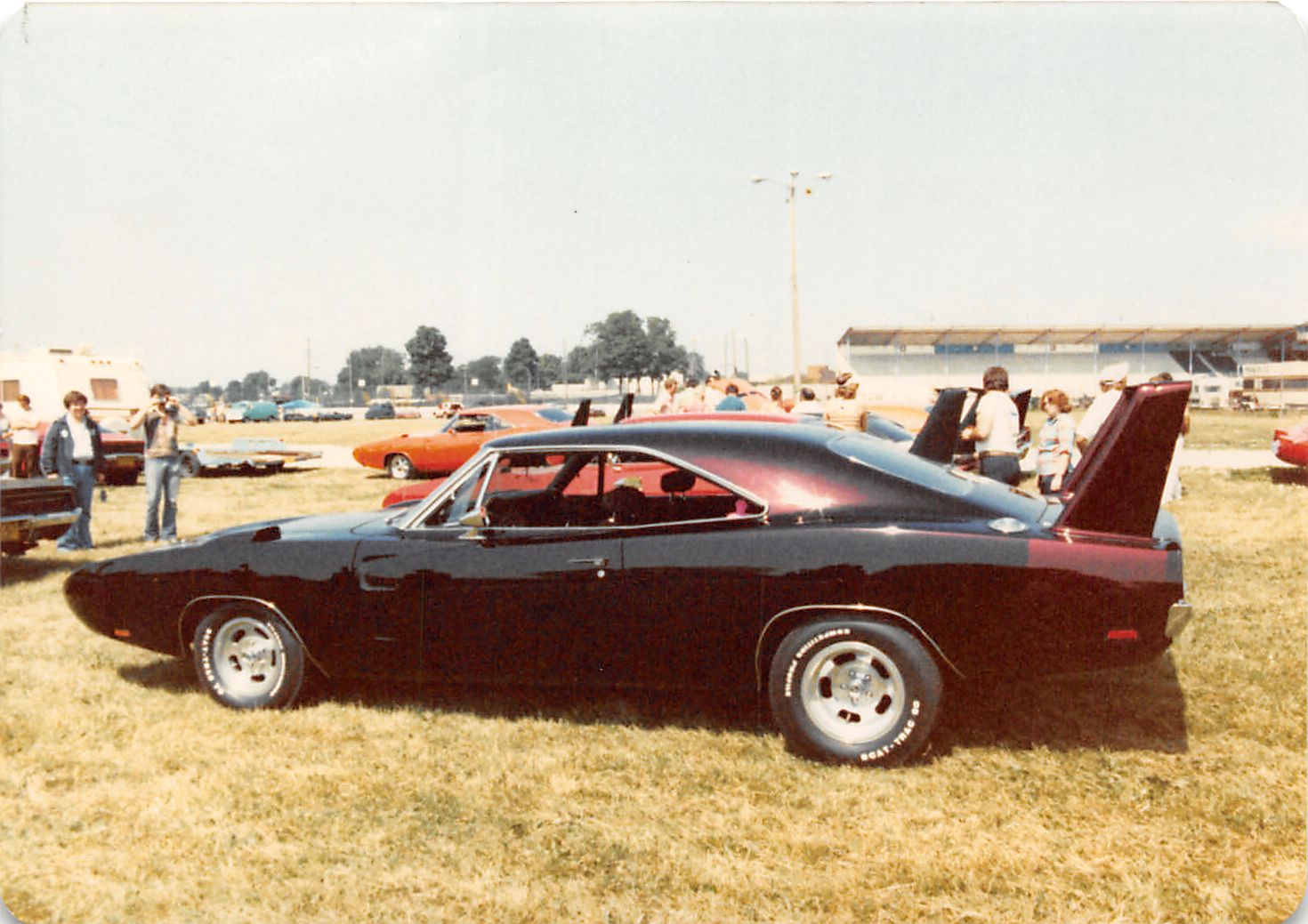 In 1978, Donna Schill bought this original Hemi Orange Daytona from Florida.   It replaced the silver Daytona with the strobe stripe.     A super solid car, she had it repainted black cherry  This would have been an expensive paint job in 1978.   Several thousand dollars.   This was taken in 1980 at the Milwaukee Mile.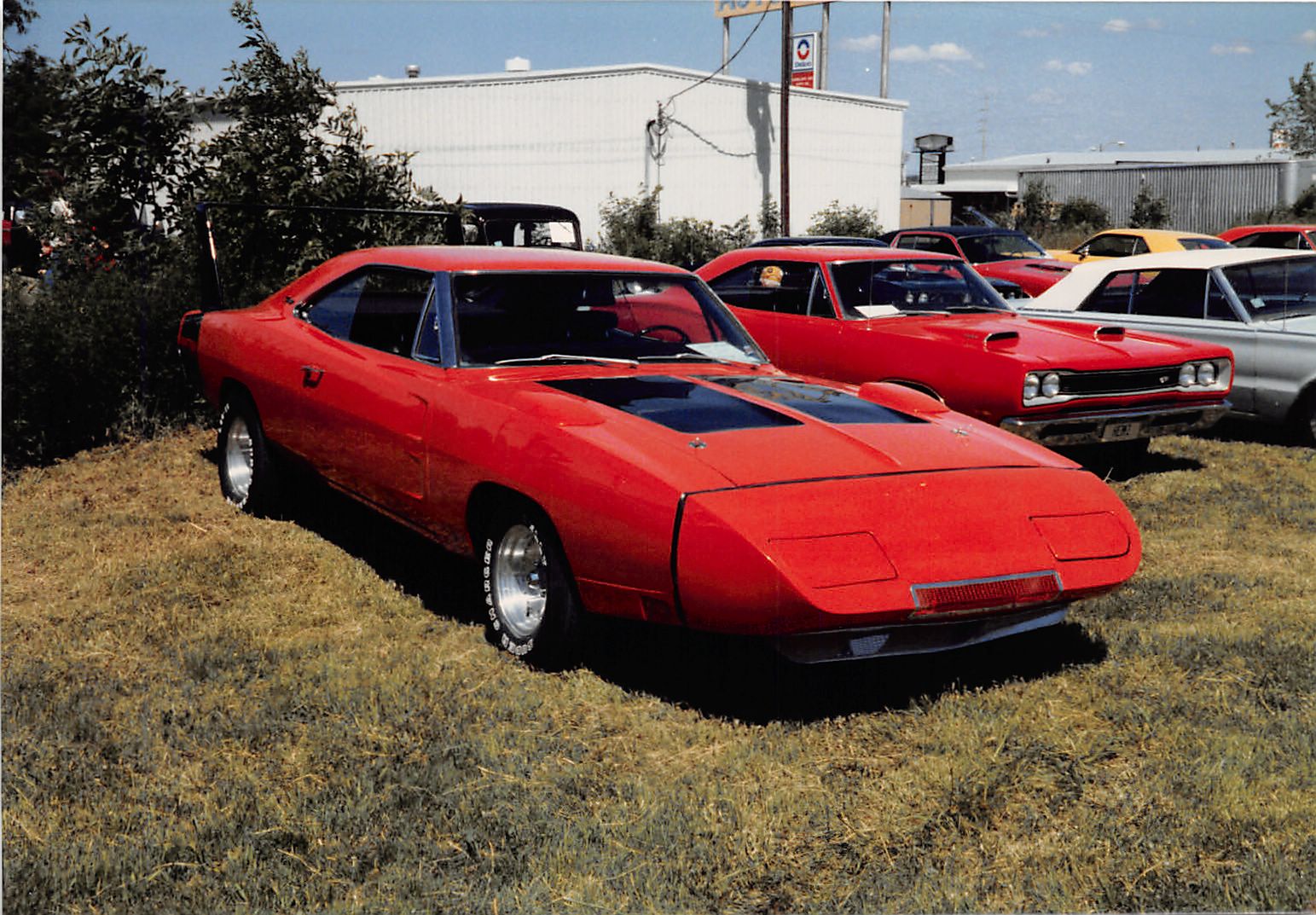 From the 1983 DSAC National Meet in Kansas City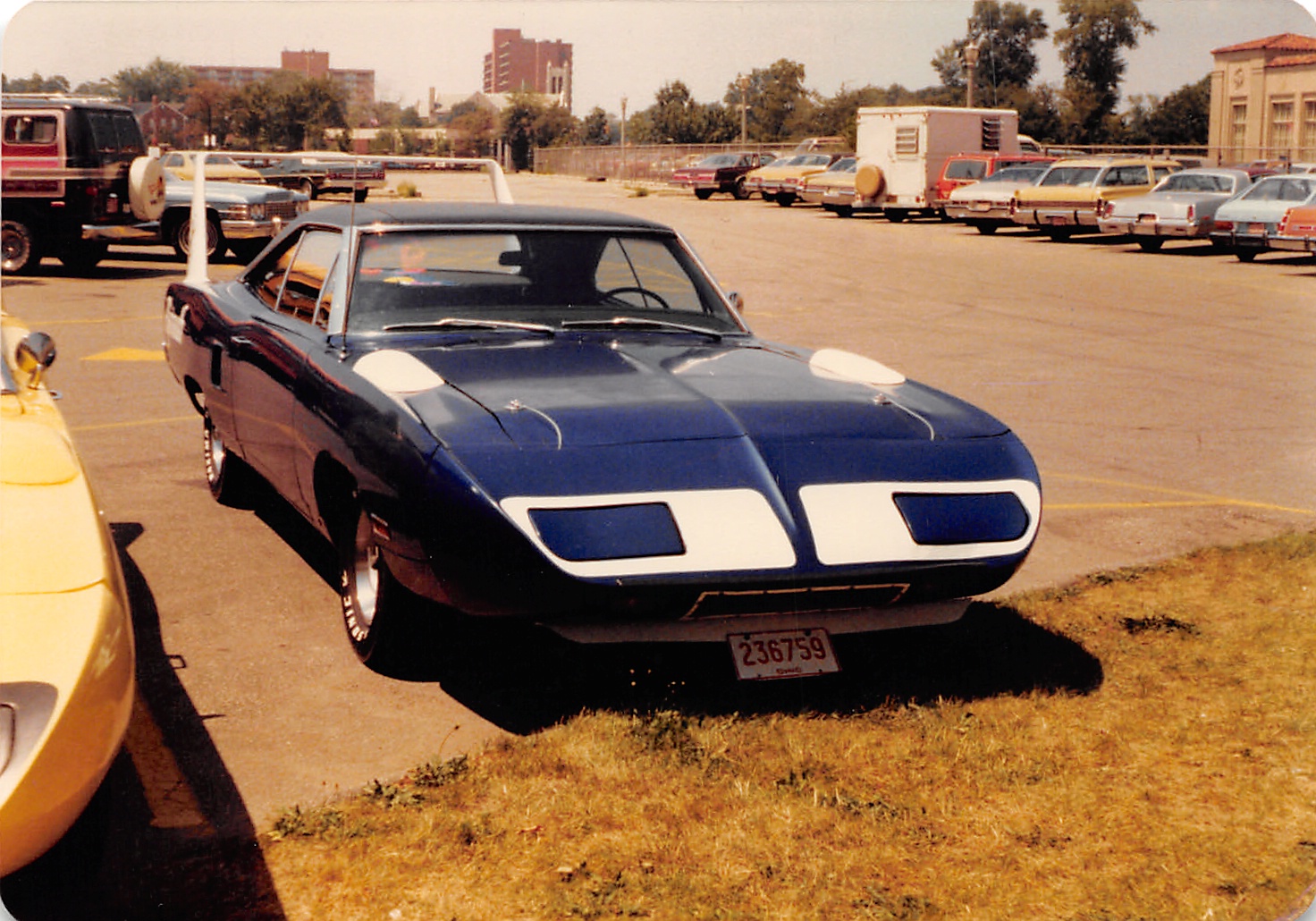 I don't remember whose car this was, but it was taken at the Henry Ford Museum in 1977.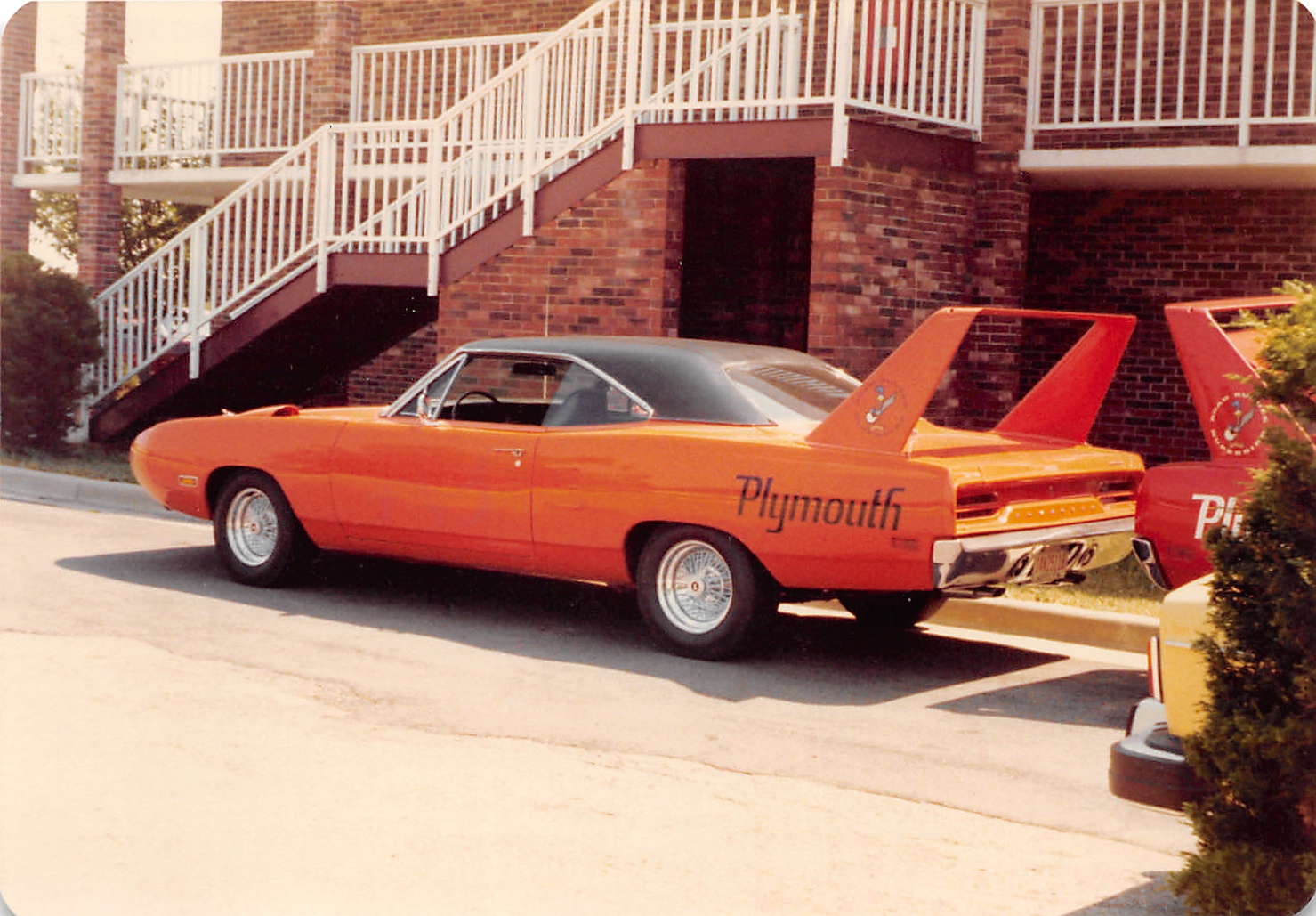 Do you remember that Keystone made a custom wheel called "Sun Spoke"?    Those wheels are on this Superbird owned by Marvin Hughes. .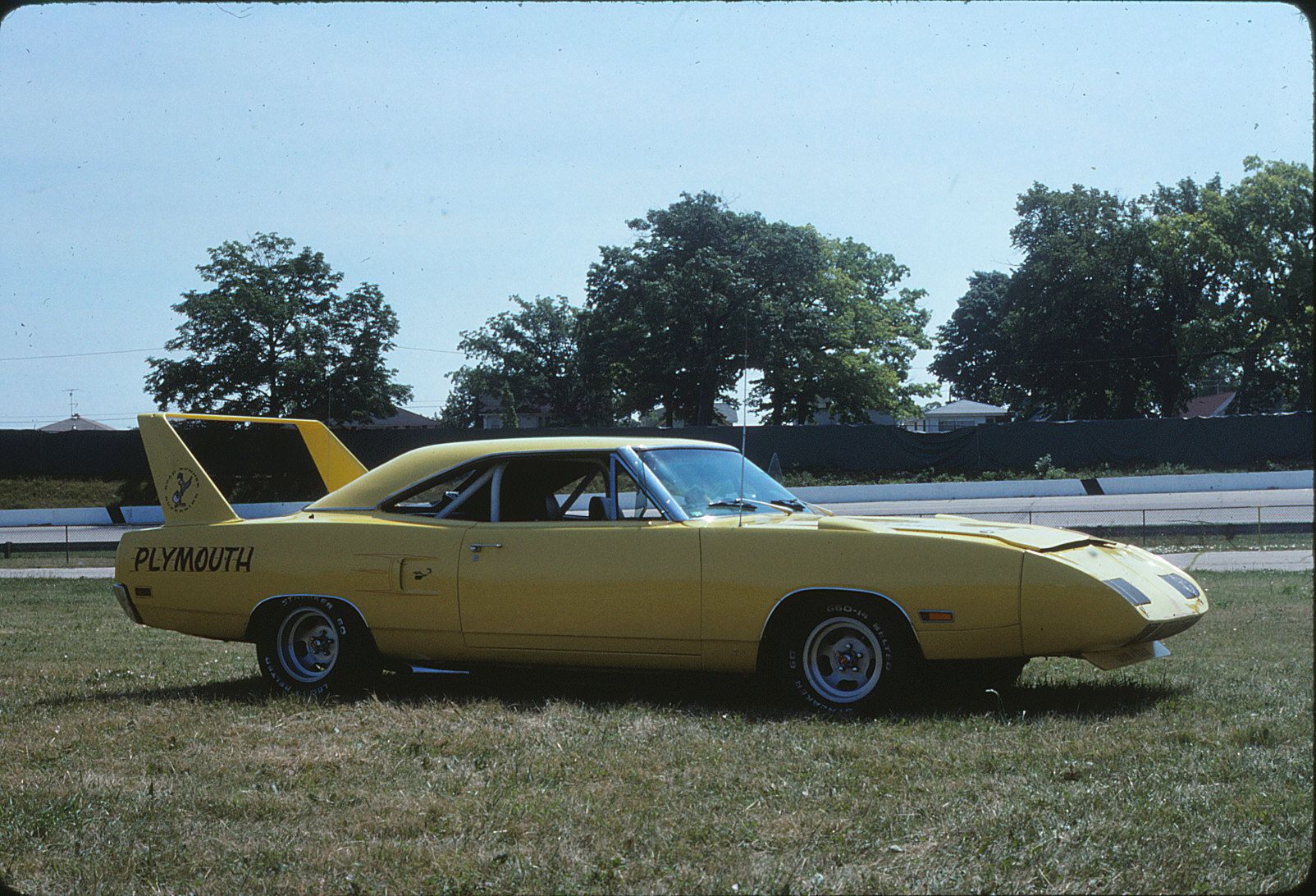 . .Another one from the 1980 Milwaukee National Meet, this one was owned by Pat Jacoby.   It was running a Hemi and 4-speed, but is an original 440 car.   Check out the added roll bar.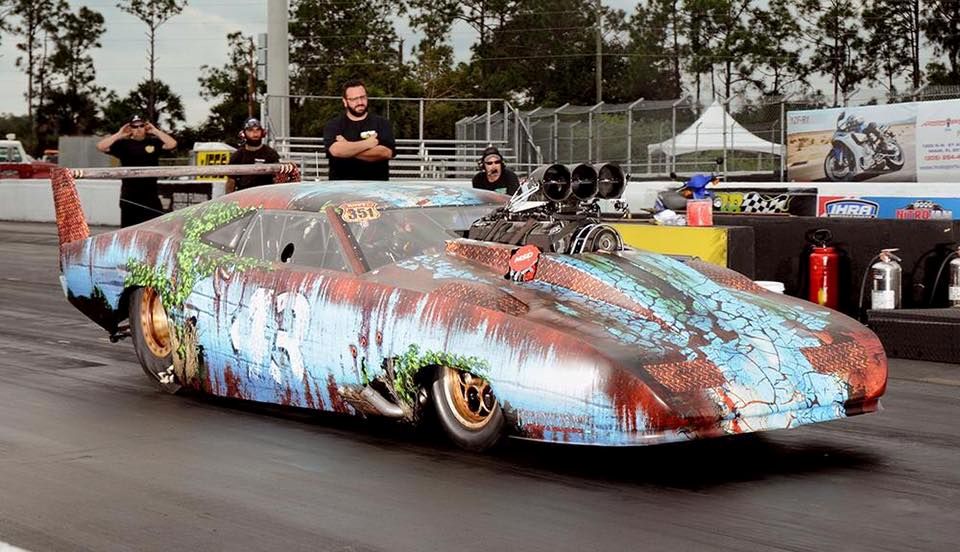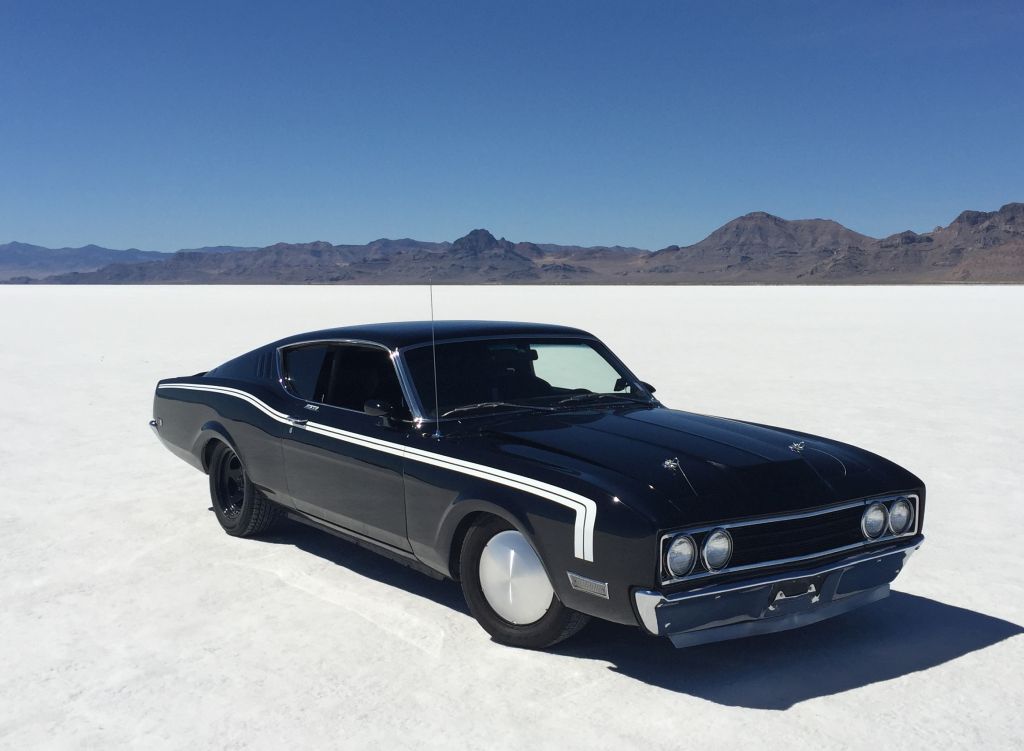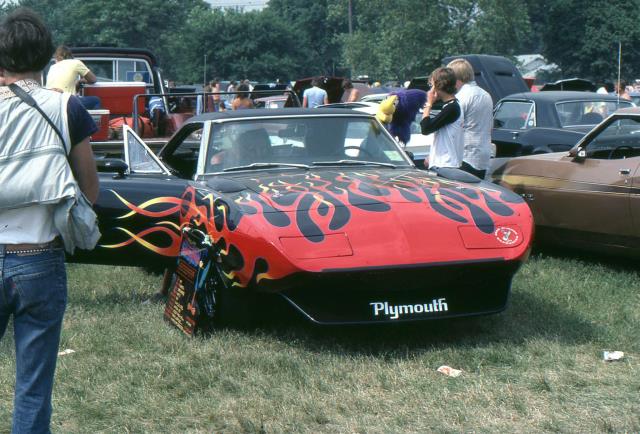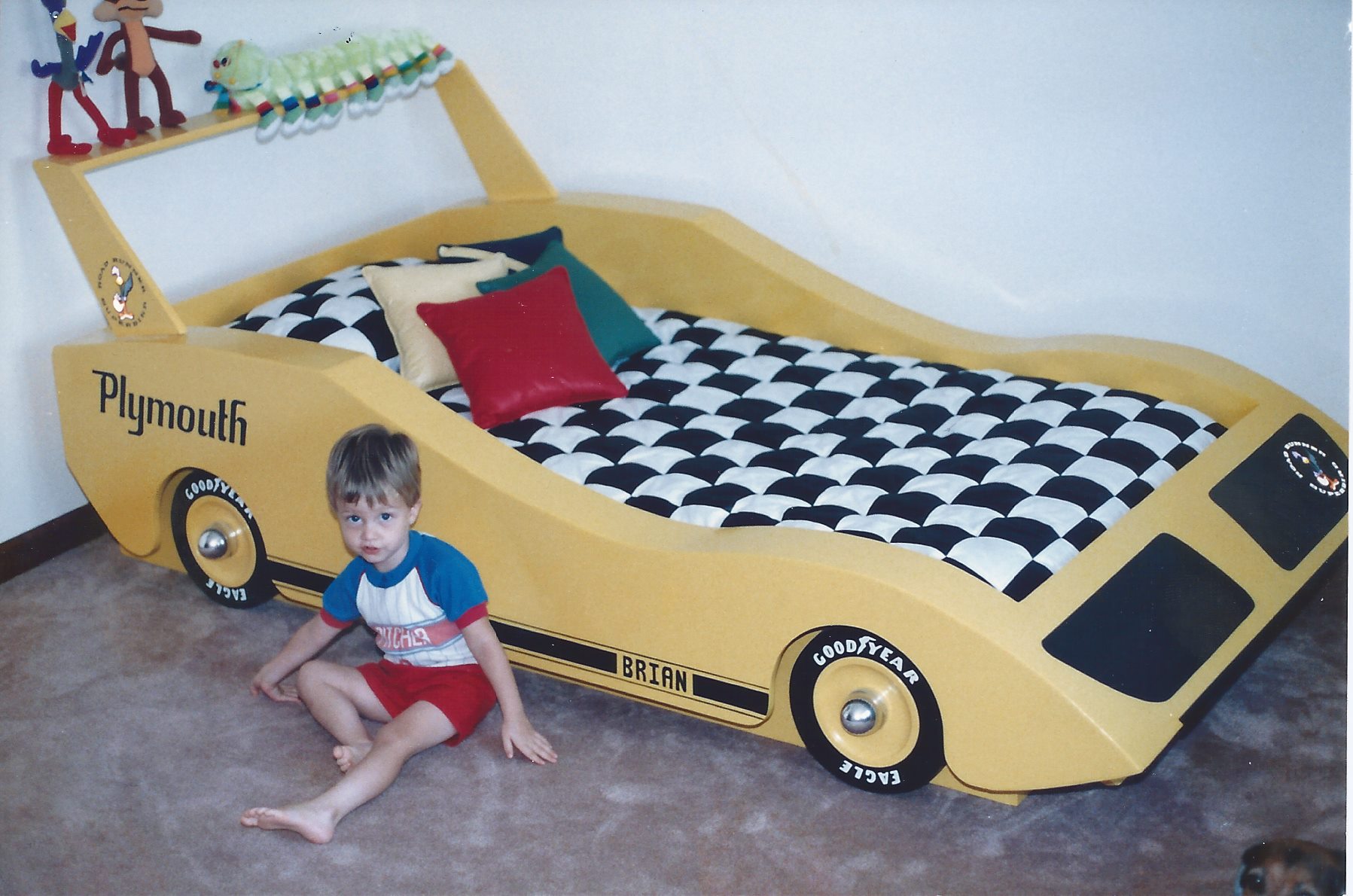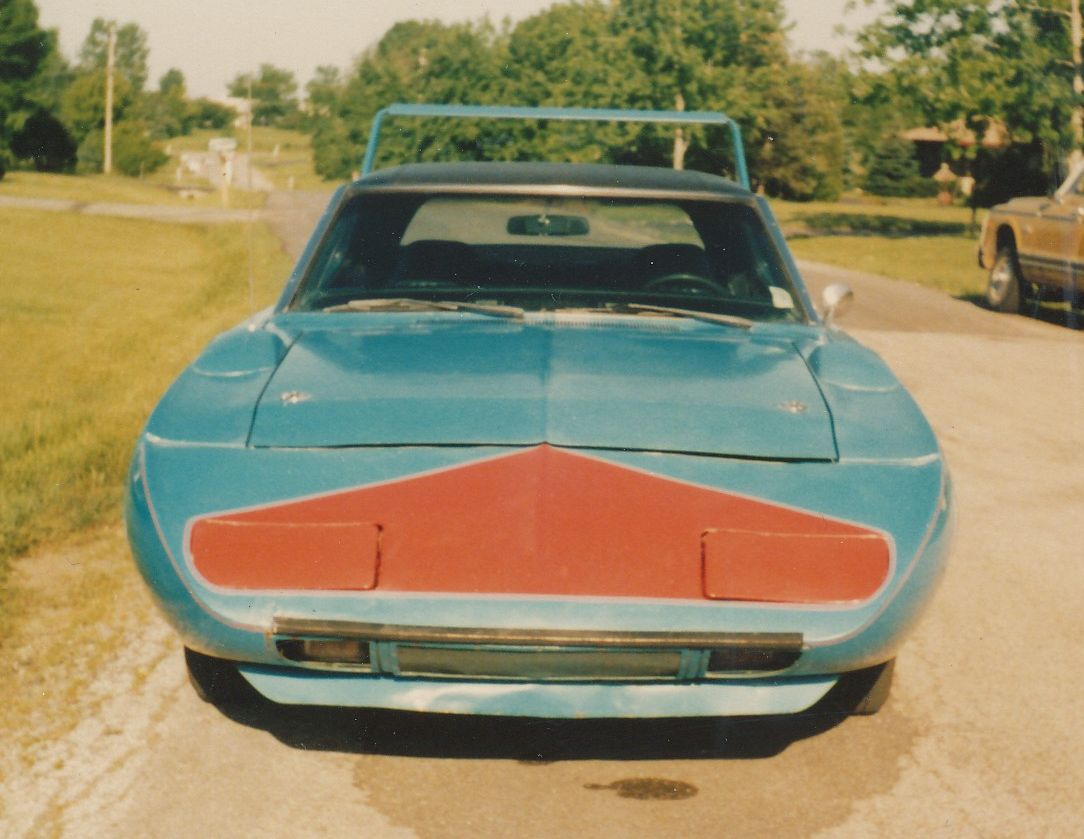 Craig Sullivan's custom Pro Mod Petty "barn find" drag car.   Craig has been racing this car in 2016 and again in 2017.

Mike Callahan's Spoiler II from Cincinatti Ohio.   A long time salt flats enthusiast, Mike drove this car 1800 miles to Bonneville, ran 154 mph in it and drove it back home.    It's got a 351C for power. 

I remember seeing this car in magazines in the 1980's, but I cannot remember who owned it.   Wonder where it is now?

Almost 30 years ago, here is young Brian Hatfield and his custom Superbird bed.   

Another shot of "Old Blue".   My father owned this car in 1979.   The first Superbird I ever drove, it is a U-code 440-4 and with a console auto.  It had 3.91 gears, a Tuff steering wheel  and was a blast to drive.    It was rusty but trusty.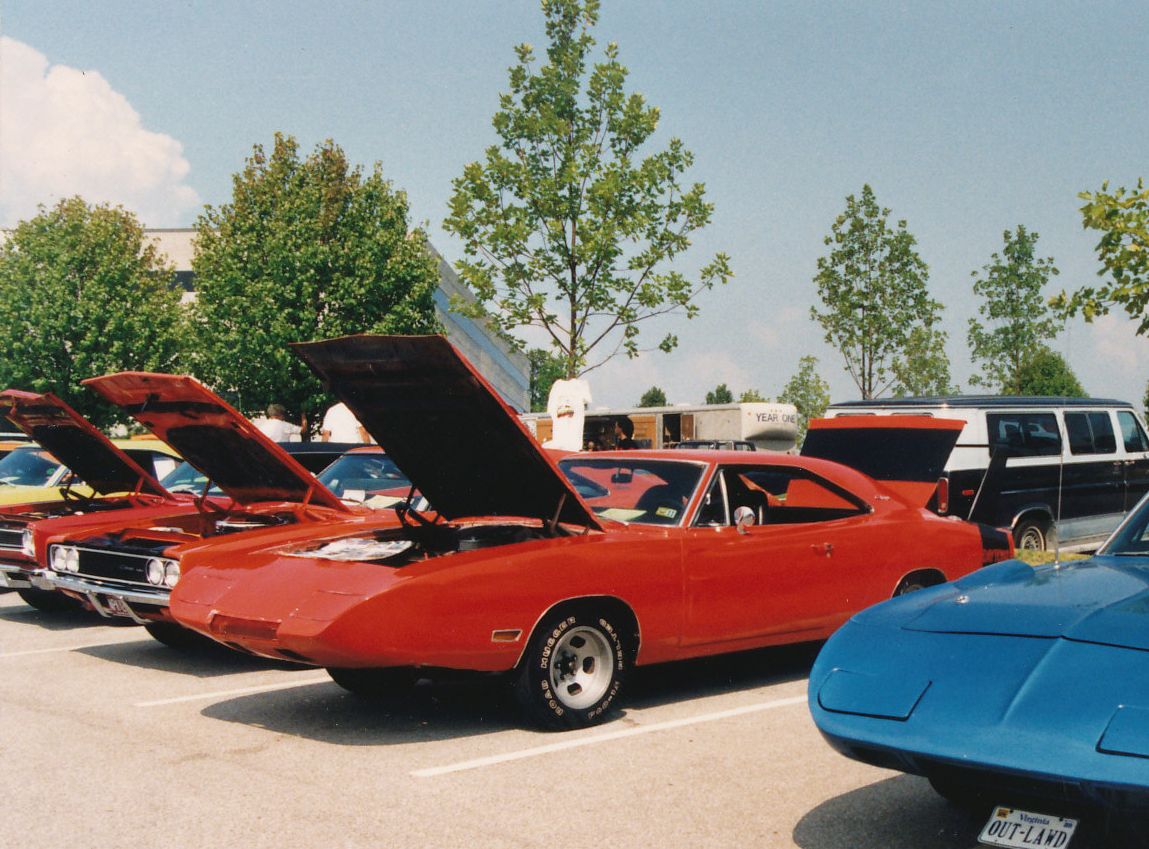 This Daytona was built completely from scratch by Cecil and Donald Sills in South Carolina.   Every part was hand made.      From the 25th Anniversary wing meet at Talladega in 1988.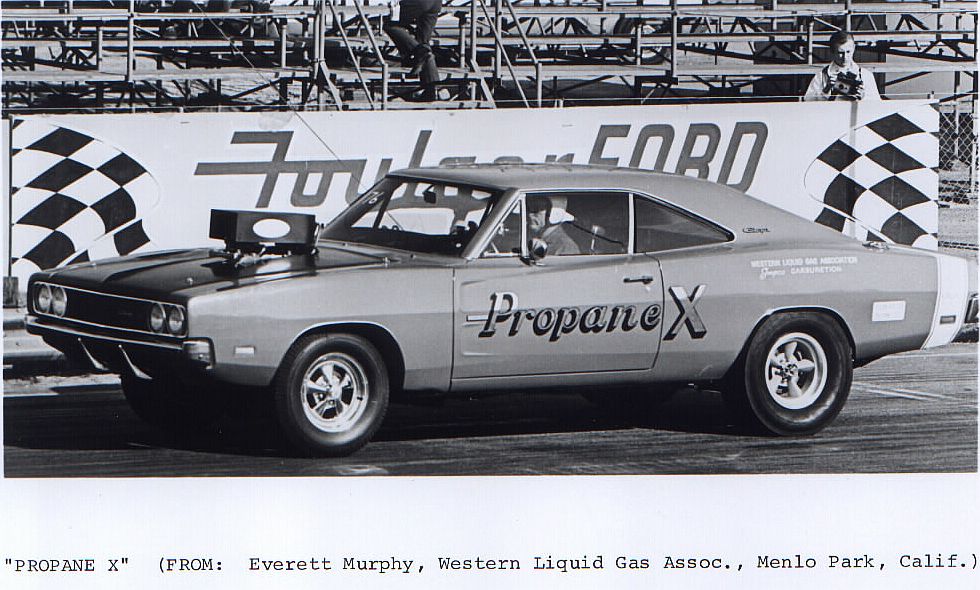 The former Propane X Charger 500, now with a slightly different livery.   It showed up on a flatbed at a California Mopar swap in 2013.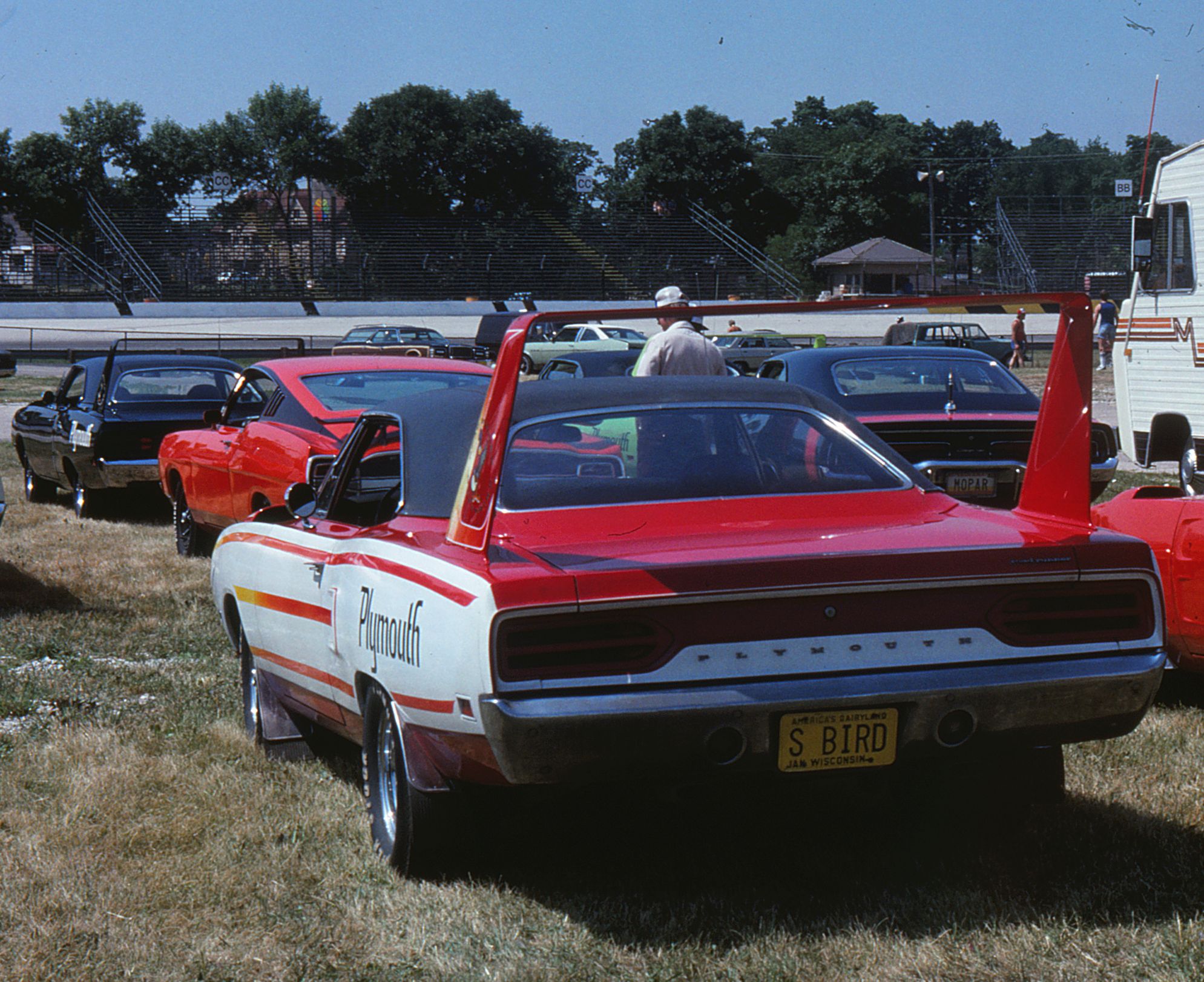 Another nice shot of Roger Dennee's colorful Bird.   This one is from the 1980 National Meet held at the Milwaukee Mile race track.   Check out the all black Superbird in front.