Ron Nichols of Franklin Ohio owns this nice looking Charger 500.  It's R4 red with a black interior, a 440 with 4-speed and 4.10 Dana.   Maybe a little unusual too, in that it has no console.  Ron has owned the car since he drove it home in 1974 after trading $350 cash!  I like those vintage Cooper Daytona tires too.

Ron found a broadcast sheet in his car, but like many Charger 500s and Daytonas, it is not the correct one.  Ron has the sheet for Charger 500 XS29L9B210714.    He needs the sheet for his car which is XX29L9B210708.  If you can help, contact Ron at 937-746-2412.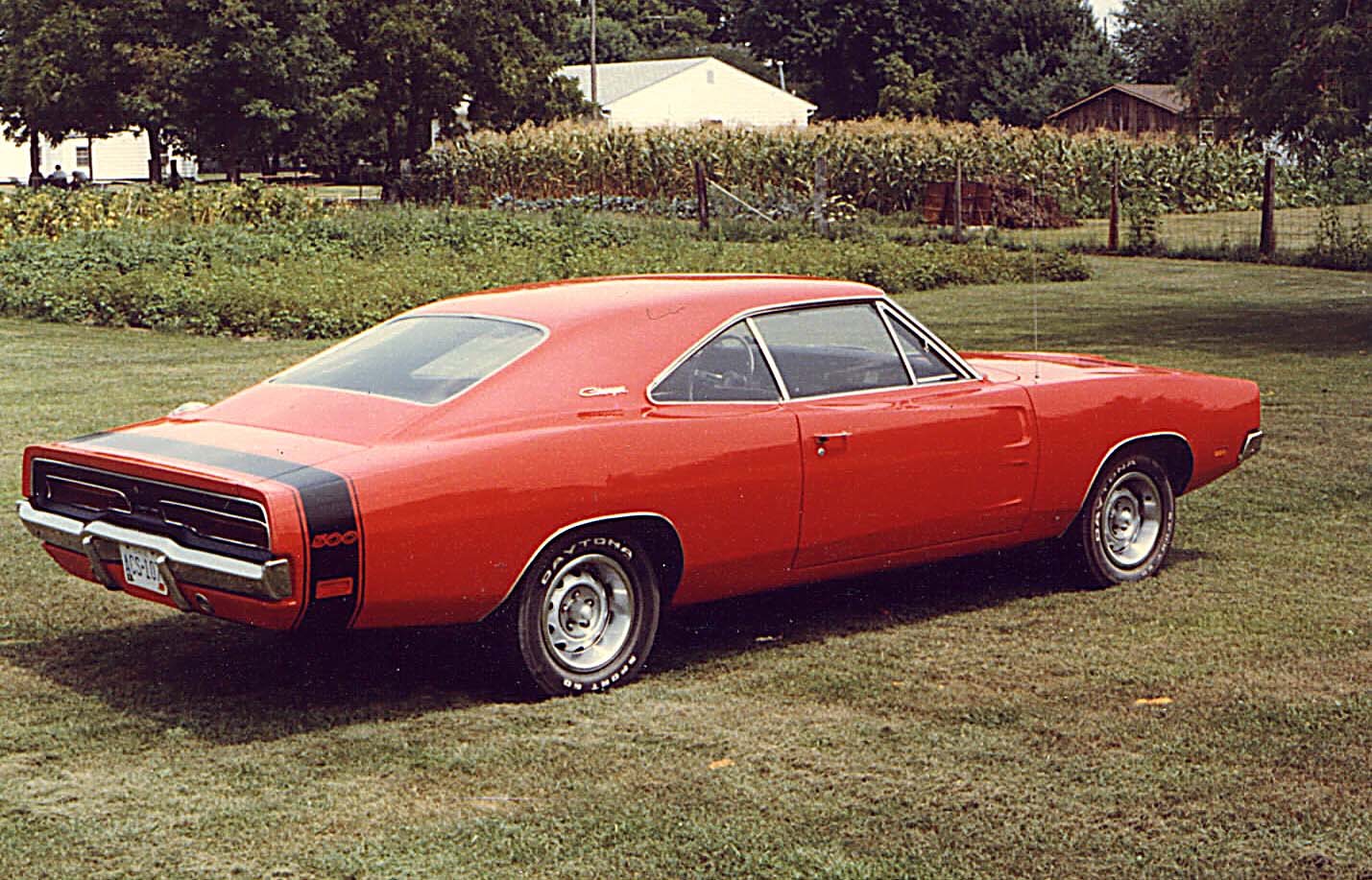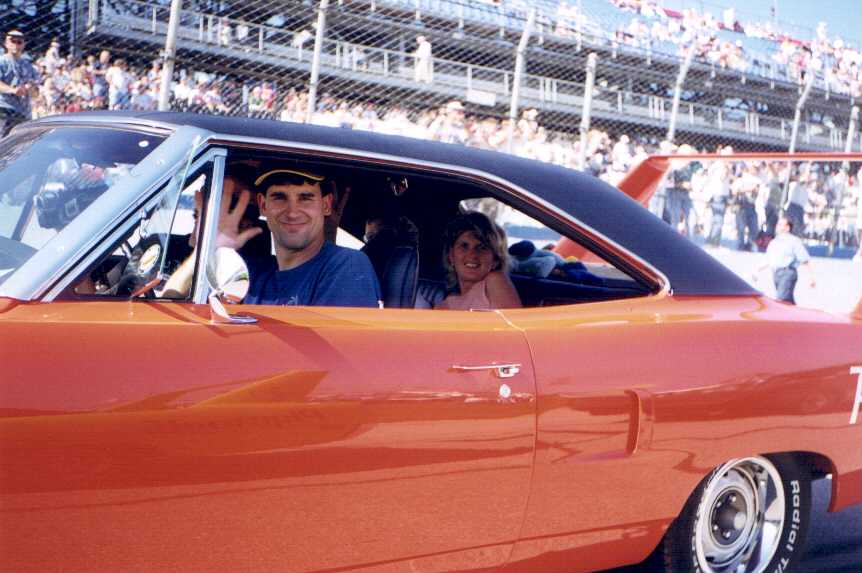 Superbird Bob"  Kropp of Snohomish Washington is one lucky guy to own this Hemi Superbird.   Bob says, "I looked at them brand new and fell in love.   The salesman told me, 'You can not afford that car, son.'  He was right.  I was 19 at the time, and ended up with a standard 383 4-speed Road Runner.  But the hook was set."

"I spent the next fifteen years travelling here and there when a wing car would come up for sale.  I must have looked at over twenty cars.  When I found this one in 1985, it was only five miles from my house, and I did not even know the car existed.  It was an estate sale and there were three of us looking at the car.  The owner's brother sold me the car, because he said he could see the love in my eyes.  Seventeen years later,  I still love her the same."

Bob's Bird is an original Hemi car with a 4-speed and a 3.54 Dana.  Bob drove her proudly, and cross country to the 1999 Reunion at Talladega from his home in Washington state.    Bob offers a variety of parts for Mopars through his website, www.superbirdbob.com     One of the latest offerings is an electric vacuum headlight switch for Superbirds and Daytonas, eliminating the problem of vacuum leaks behind your dash on the originals. 

Rich and Debbie Spasojevich from Illinois own this gorgeous Tor-Red Superbird.  The photo was taken on the track at Talladega during the 1999 Aero Warrior Reunion. The car is an original  440 Six Pack car, and Rich did the body and paint himself.   Here's a nice letter we received from him:

It's been another great year in wing car history for my big orange Bird.  The Darlington track event in March was awesome - much like Talladega!   Not too many cars, but still the same feeling of being special before lots of race fans.  Tickets were $100 each, even for my 11 year old stepson.  In the museum, Buddy Baker's wing car and Richard Petty's 1967 Belvedere were added treats to our weekend.

I hope that we as a club cab can go to other tracks, such as Michigan,  the Milwaukee Mile, or Joliet Route 66.  Since I became a member in 1994, it would be great to have Buddy Baker or Pete Hamilton to come back and rehash some old memories along with Ford guys like David Pearson. 

Belonging to your club has changed my life tremendously.

Rich Spasojevich - Belevedere, Illinois.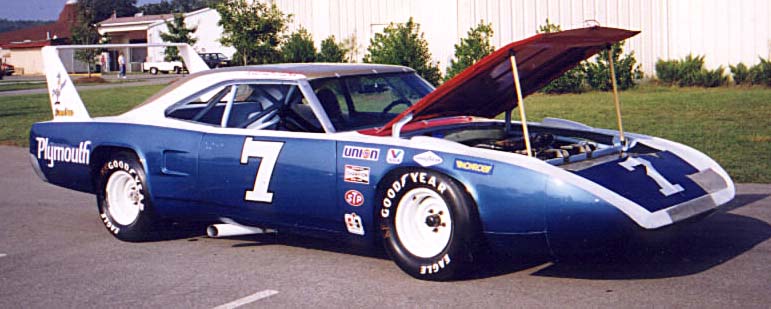 Member Doug Schellinger owns one of the most desirable Superbirds around - the original Ramo Stott race Bird.

Old number 7 was built as a new chassis during the winter of 1969-70 at Nichels Engineering, just outside Chicago.  During the winter months, crew members from the various Chrysler race teams would work at Nichels helping to build the next season's cars.  That helped eliminate the perception that one team would possibly get a better car than another.  Ramo Stott himself welded up the roll cages on those cars, including this one. 

The car made its racing debut at Daytona in 1970.  It became the first Superbird to win a major event, by taking the win at the 300 mile Daytona ARCA race.  Ramo and the Bird capped off an excellent speedweeks by finishing 7th in the Daytona 500.

No longer legal for NASCAR, in 1971 and 1972, the Bird continued to be campaigned on the USAC circuit in the midwest.   You will sometimes see this car wearing #77 or #47.  After the 1972 season, the 1970 body was no longer eligible for competiton. At that time, Ramo had a newer car, a 1971 Road Runner, and for some reason, never sold or rebodied the Superbird.  After its final race in the fall of 1972, the Bird was pushed into a corner of the shop and sixteen years of hibernation began.  Rumors were that the car was "not for sale".

In 1988,  Jeff Bobst from Iowa was able to purchase the car from Ramo.  Ramo installed a running race Hemi and the Bird was back in business. Our first look at the old friend was at the 1988 Talladega event.  Still wearing its 1972 numbers,  it was a real time capsule, and appeared just as it came off the race track.  What a beauty.

In the intervening years, the car has only had a single paint job, and now wears its original number 7.  Despite three seasons of racing, it has never been crashed, and still wears its original body panels.   This is a fabulous old race car, with a great history.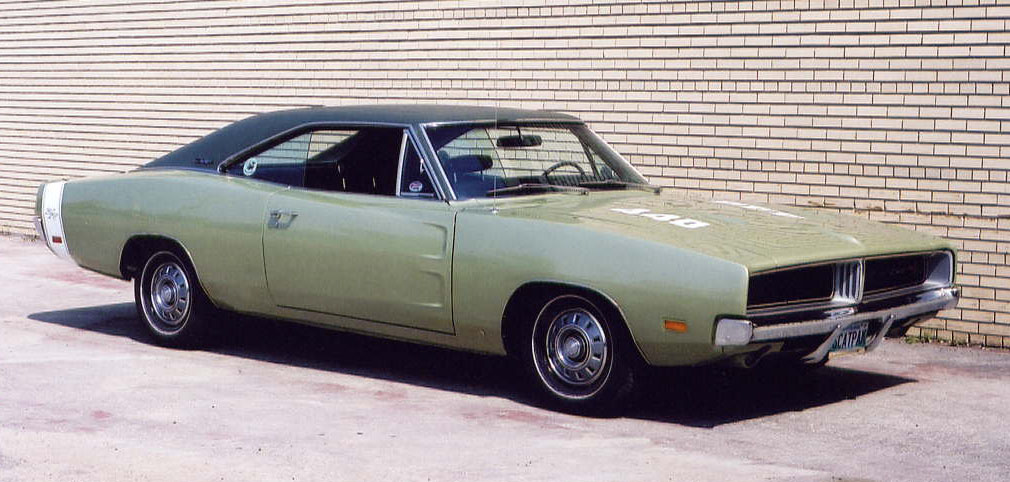 Brian Gushuliak, of WInnipeg Manitoba owns this sharp '69 Charger R/T...  I'll let Brian tell you about it.

"You wanted some info on my Charger.  I  know its not a club car,  but  Daytona values are rising faster than my paycheck - although the Talladegas are still reasonable.

Anyway I purchased the Charger in 1992 at a local swap meet.  At that time it had the rare engine and transmission delete option. It was dented, rusty and with 20 year old crushed velour seats,  it was not a pretty site.  Checking the VIN number confirmed that is was a real Charger R/T.

Disassembly started a little later.  When that was done,  the old story of  "should I continue or scrap it?" came up.  Replacement sheet metal was welded on.  New words were learned (from hot welding sparks).  Once the shell was completed and painted, thats when the pace picked up.   A combination of Legendary Interior products and redyed original pieces returned the interior to like new.  A later model 440 and 727 automatic trans were freshened up.  The car was first shown in the fall of 2000.  Thats when the previous owner saw the car and was quite happy his old hot rod was alive again.

Real life made the resto time a lot longer than anticipated,but now I'm glad I didn't bail out.  Nowadays it driven to shows,  club functions and used as a general stress reliever. Ive attached some photos as well as a more recent shot.  The difference is now I'm running whitewalls and wheelcovers.  Except for the hood callouts, this is the way it looked when new.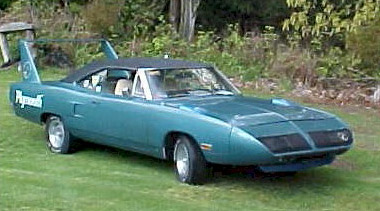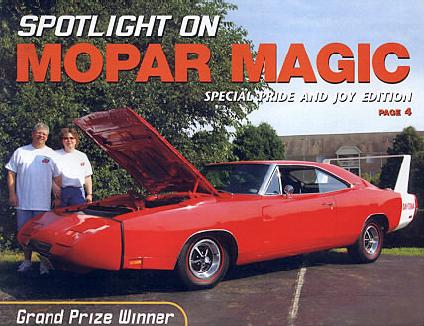 Members Brent and Sherri Evans and their Daytona were featured on the cover of NAPA Balkamp's Winter 2006 BK Today counter magazine.  The Evans' Daytona is the flagship among a farm of Chargers and cats in southern Illinois. 

The Daytona is R4 red with a black interior and an automatic.    Brent did all the mechanical work as well as the paint.    They've owned the car for almost a decade and have taken it all over the country to different wing car and racing events.   The car has some notariety in that it was once owned by Dodge racing executive Bob McDaniel, and spent some time at the shop of NASCAR legend Cotton Owens.   

Brent & Sherri have also graciously hosted the DSAC 2005 and 2006 National Meets with our thanks and gratitude.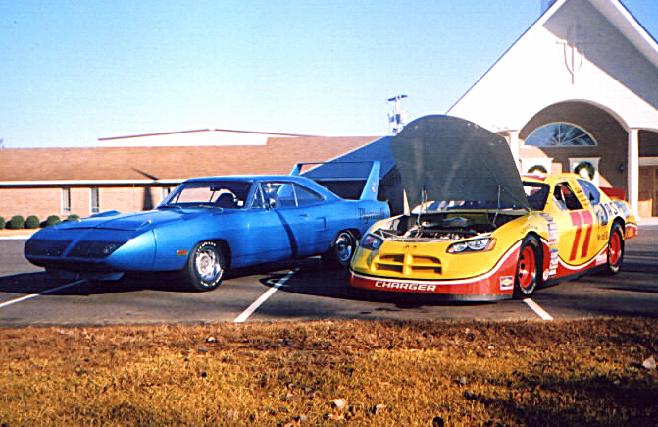 Club member Paul Virden sent us this nice photo of his Superbird.    "Travis Kvapil's #77 Penske Jasper Dodge was on display at the Pocohantas Baptist Church where I go to church in Mississippi.   Lee Pulliam is the Jasper rep in our area and was able to get the car here.   Rob Dodd the car hauler showed the #77 Dodge at churches and hospitals for Penske in 2006.